NHS England tells MPs: 'The state isn't doing dastardly things with GP medical records'
Exec backs fudged care.data that will 'save' health service
---
NHS England's bosses and the government's health minister came under fire from MPs on Tuesday afternoon over the fudged and delayed plan to store patients' GP-held medical records with other data kept by hospitals in a centralised database.
Tim Kelsey, the health service's patients and information national director, admitted to Parliament's health select committee that the poorly communicated care.data campaign had led to "confusion, suspicion and a level of anxiety" that he needed to put a stop to. Given the UK government's previous database fiascos, it's clear why Brits were so concerned.
The result was to pause the planned grab of GP medical records in England for six months. Kelsey agreed that patients deserved more assurance about the legal safeguards he insisted were already in place in the Health and Care Act 2012.
"I'm not sure we have made the case for the benefits of this," he said. "This is not a PR exercise, nor is it a stunt ... it is about the future of the NHS."
Tim Kelsey: If 90 per cent of patients opt out of care.data, we won't have an NHS.
When pressed, Kelsey insisted that, where patients had opted out of the controversial scheme, "no clinical data flows from your practice". That's a message he said had "got a bit lost" during the piss-poor handling of the leaflet drop that NHS England had carelessly bundled with junk mail.
Kelsey told the assembled politicos that, over the course of the next six months, NHS England would try to bring an end to concerns about care.data by talking about legal safeguards, offering support for GPs specifically around how patients can opt out, and to "explain why this matters so much."
He said that it was simply not true that "the state is going to do dastardly things" with centrally held GP medical records. But MPs noted that Kelsey faced a tough job proving to the public that it won't happen, given the botched implementation of the system to date.
Later, during the hearing, Kelsey made what some critics may consider to be an outrageous claim. He said: "If 90 per cent opt out [of care.data], we won't have an NHS."
Incredibly, although the system was set to begin extracting data from GP surgeries in April, the government is yet to come up with a code of practice on issues such as confidentiality as required under the 2012 Health and Social Care Act.
The health select committee pressed undersecretary of state Dan Poulter, who seemed ill-equipped to respond in detail to specific questioning about the scheme, but who pointed out that the body created to deal with information-handling – the health and social care information centre (HSCIC) – was going through an "evolutionary" phase.
The reason: it had only been put in place 10 months ago. It meant that, when the minister was asked about newspaper reports that claimed NHS England had sold hospital records to insurers, Poulter was effectively able to say that it hadn't happened on the HSCIC's watch.
The organisation's director of information and data services, Max Jones – when directly asked about whether private information slurped by the care.data scheme would be shared with insurance firms – stumbled over the word "untrue".
He then claimed that there had been a "variety of misrepresentations of the facts". Jones claimed that the HSCIC would not approve to such data being shared with insurance companies in the way some privacy critics had feared.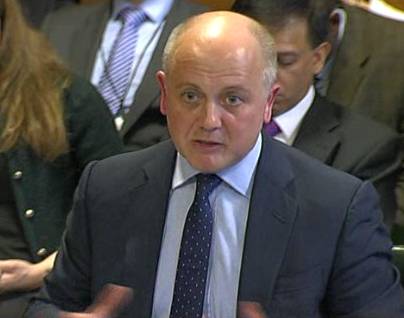 NHS England's care.data boss Tim Kelsey grilled in Parliament on Tuesday
But MPs asked how such a promise could be enforced given the absence of a code of practice for the HSCIC, GPs and NHS England.
"A code of practice is being drawn up," Jones said. "Under the obligations of the [Health and Social Care] Act we have to consult widely on that proposal."
He was unable to say publicly when the code of practice would be published, however.
Privacy concerns have been raised over HSCIC's sharing of pseudonymised medical data with companies in the outside world, specifically just how anonymous said data is when it leaves the database; Jones told the panel information extracted from patients' records is a "critical tool" for HSCIC. He said if scattered pieces of such data could be assembled, like a jigsaw, to identify a specific individual, for example, then the firm responsible would face a fine of up to £500,000 from the Information Commissioner's Office.
The company would also be told it had breached the terms of contract laid out by the HSCIC. But some MPs dismissed Jones by arguing that such sanctions were small change to big pharma and insurance corporations eager to get hold of Britain's medical charts.
Earlier in the hearing, Sharmila Nebhrajani, the boss of Association of Medical Research Charities (AMRC), told MPs that GP medical records were "a really valuable asset" but said that the care.data scheme had been "stymied by its communication".
"There are some very big unknowns in the execution of the database," she added. And said that the public needed confidence in understanding how the data would be used.
Privacy campaigner Phil Booth of Medconfidential told MPs that there remained a huge problem with the system that the government was trying to lump on patients in England. He said:
We have never denied the research benefits ... it must be trustworthy ... we would like to see all data flows in the NHS ... to be consensual, safe and transparent.
But Booth said, to make that happen, required "a fundamental re-engineering" of the entire system. ®