This article is more than 1 year old
Surveillance, that's a hot topic right now. We'll make some disk drives for that – WD, Seagate
Big Brother is watching you ... in hi-def
Not so long ago, Apple went through a list of big cats to name its OS X releases and it seems that WD is doing the same with a box of crayons. So far we've had WD Black (flash-disk hybrid), Green (eco-friendly), Blue (desktop-friendly) and Red (NAS-friendly).
The spectrum is widening though, as WD announced its Purple range of 3.5in hard drives this week, designed for the surveillance video market. At a launch event in London on Monday, the company reeled off its research into this sector with projections that, as we will all end up on a TV somewhere whether we like it or not, at least it will be in glorious hi-def. Well, that's the theory, which is why the drives cover 1TB up to 4TB capacities.
What lies behind the branding, though, is the recognition that surveillance video recording is write intensive and so these drives have been geared up to perform to an anticipated workload of 90 per cent write and 10 per cent read. It's a scenario typical of the 24/7 security capture that NVR (network video recorders) and specialist DVR equipment endures.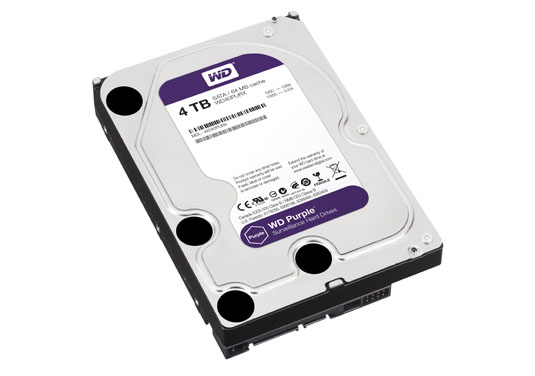 Watching the defectives: WD's Purple HDD with AllFrame claims to smooth out video glitches
Besides endurance, WD makes boasts about its AllFrame technology that uses clever caching to minimize dropped frames and can "protect against video pixilation and interruptions". How it does this isn't explained in any great detail and whether you'd notice it is another matter entirely.
Furthermore, the whole notion of support for 32 HD cameras over five drives will be lost on many CCTV installers who still work on SD, and record a composite image of multiple cameras rather than discrete streams. For them, an ordinary 1TB drive will do the job nicely and they'll whip it out after a year or so and replace it with the cheapest drive they can find.
Yet WD along with Seagate, which incidentally announced its new Surveillance HDD 24 hours earlier, seem to be drinking each other's Kool Aid and envisage a CCTV world where lift shafts and bland corridors are captured in Blu-ray disc quality video.
It's a scenario WD anticipates will explode in the next couple of years, but just because there is the equipment aplenty out there to do this, with WD having run tests with HIKVision, doesn't necessarily mean office block security will be buying into it. Certainly, both companies will have to do a fair bit of evangelizing to win over more traditional security system installers with an eye on their margins, rather than specialist drives.
There is the NAS option, though, with many companies such as QNAP and Synology offering software to configure multiple IP network-connected cameras, which runs on their respective network-attached storage hardware. Still, a small business might take some convincing that the WD Red drives they stuffed in there last year should really come out and get replaced with Purple ones to keep the office safe.
Perhaps a NAS could be configured for mainstream drives on the inside and surveillance storage attached externally with a dedicated path to record. It might be worth a try on smaller set-ups assuming processing tasks weren't too intensive for the basic NAS drives.
On that note, WD is looking at small to medium businesses with the Purple range. As for larger systems, it has the WD Se and WD Re drives to take care of the industrial strength needs.
From today, WD's website now has its own dedicated surveillance section and from the blurb you'll find some slightly different areas of focus compared to the Surveillance HDD storageannounced by Seagate only yesterday.
WD Purple drives include a three-year warranty and are priced at £55 ($90, 1TB), £75 ($120, 2TB) £100 ($160, 3TB) and £140 ($200, 4TB). Seagate Surveillance drives also have a three-year warranty and are similarly priced. ®