This article is more than 1 year old
Apple to maintain phone profit lead through years of 'enormous transition' – report
Windows Phone the rising star? Didn't see that one coming
Some observers have said that the high-profit party is over for Apple's iPhone now that the global smartphone market is becoming saturated, but the market researchers at IDC would beg to disagree.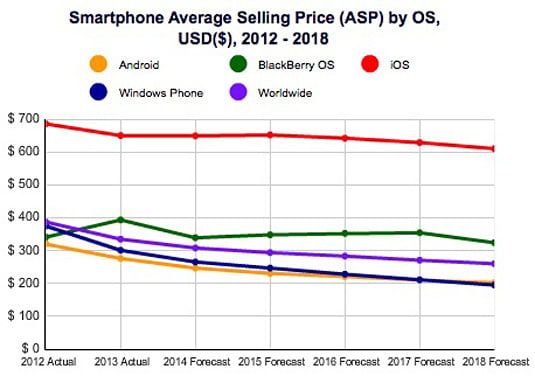 There are low-cost Android phones and expensive ones – but on average they're cheap (source: IDC)
Yes, the smartphone market is beginning to plateau, with a year-on-year growth rate of 19.3 per cent predicted for 2014, dropping to 8.3 in 2017 and 6.2 in 2018, IDC analysts write in a report published this week. But that shrinkage won't force Apple to drop its average selling prices (ASPs), they conclude.
"Apple has maintained a tight focus on the high end of the market with its most current devices, a trend we expect to see continue into the future," they write. "This could keep iOS from realizing greater volumes within emerging markets, but sales in mature markets will offset much of the difference."
IDC predicts Apple's iPhone ASP to be $649 this year, and slip to $610 by 2018 – a drop of 1.2 per cent. They project that ASPs of Android-based smartphones, however, will sink from $247 to $202, a drop of 6.1 per cent.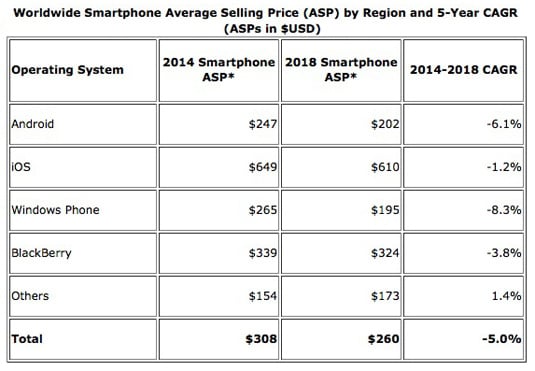 Of the big four, everyone's prices will drop – but Apple's the least of all (source: IDC)
Android phones have the largest global smartphone marketshare by a wide margin; IDC projects that 950.5 million Android phones will be sold this year, rising to around 1.3 billion by 2018. That 2014-to-2018 compound annual growth rate (CAGR) of 10.7 per cent, however, is only marginally greater than Apple's CAGR for the same period of 10.2 per cent.
The big winner, IDC predicts, will be Windows Phone, with a 2014-to-2018 CAGR of 29.5 per cent. The big loser? Guess. Yes, you're right: "IDC has taken a conservative stance on BlackBerry's future," they write, having projected that the beleaguered Canucks to have a negative CAGR of -22.6 per cent through 2018, ending up with a market share of a measly 0.3 per cent.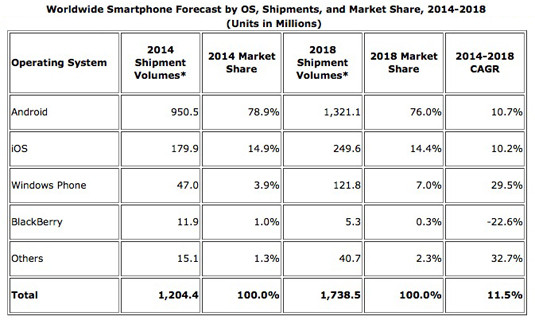 Lookout, folks, here come low-cost Windows Phone handsets (source: IDC – click to enlarge)
IDC projects that low ASPs are the future – for most smartphone operating systems, at least. "Last year we saw a total of 322.5 million smartphone units ship for under $150 and that number will continue to grow going forward," writes IDC analyst Ramon Llamas. "We've already seen numerous smartphone announcements targeting this priceband this year, with some as low as $25."
The worldwide average ASP was $335 in 2013, they report, and is expected to drop to $260 by 2018. Android will race to the bottom with its advantage of "both a commanding market share as well as prices below the industry average," the report contends, and Windows Phone will benefit from new partners in emerging markets.
IDC sees Apple, on the other hand, continuing to garner ASPs of over three times those of both Android and Windows phone devices in 2018 while losing just 0.5 per cent in market share to Android's drop of 2.9 per cent.
Two different business models: small margins on squillions of sales, and large margins on a far smaller number. But as a recent report by Canaccord Genuity shows, Apple's model is doing just fine for them, providing a larger share of smartphone profits than any other vendor.
Whether that model will continue to reap the same rewards in a smartphone market that IDC says is going through an "enormous transition" remains to be seen. If their projections are correct, however, Apple's smartphone line will enjoy steady – and steadily profitable – days ahead.
That said, Wall Street demands market-beating growth, not boring ol' stability. If IDC's predictions are correct, Cook & Co. will have to live up to their CEO's predictions of "some really great stuff" in "new categories" this year to keep the moneymen from bailing on them and spreading their money around among, for example, rising Windows Phone vendors. ®