In spinning rust we TRUST: HGST slips out screamingly fast ... HDD
15,000rpm and 600GB in 2.5 inches
---
Western Digital sub HGST has decided there's life in small fast pure spinning disks yet, and launched a 600GB, 15,000 rpm drive for enterprise data centres: the Ultrastar C15K600. Is this the last hurrah of the fast and pure disk drive?
This is not a hybrid drive, one with a slug of caching flash, such as is used by Seagate's Enterprise Turbo SSHD spinning at 10,000rpm and with 16GB of flash alongside its 600GB disk capacity.
HGST claims the "C15K600 delivers the highest 15K HDD performance in the industry," helped by media caching technology, a 128MB cache and the 12Gbit/s SAS interface. It has "two times better random write performance than current generation 2.5-inch 15K drives, and two-and-a-half times better performance than 3.5-inch 15K drives."
Competing drives include:
Seagate's Savvio 15K.3 at 15,000rpm and up to 300GB, half the C15K600's capacity;
Toshiba's MK01GRRB/R series spinning at 15,000rpm with capacities up to 300GB, again out-classed by the HGST drive; and...
nothing from WD – as its fastest 2.5-inch drive is the 10,000rpm S25 with up to 900GB.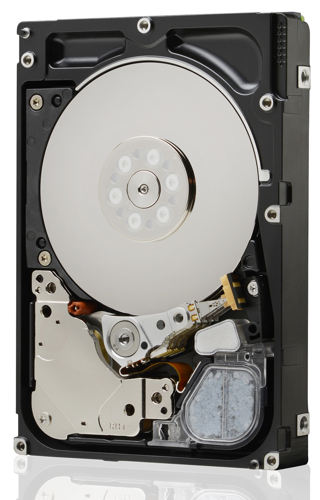 The C15K600
HGST reckons the market is hungry for drives like this:
Based on IDC industry data and customer feedback, HGST is seeing that by 2016, the Performance Enterprise (15K and 10K) HDD Total Available Market (TAM) will be more than two times the unit size of the Enterprise SSD TAM.
There are 300GB, 450GB and 600GB capacity points, with the latter equalling 3.5-inch, 15K drive capacities. C15K600 drives will be offered in 512e, 512n and 4K Advanced Format so customers can use them in both new and legacy systems.
The sustained transfer rate is 175-250MB/sec for 512n format drives and 189-271MB/sec for 512e and 4Kn advanced format drives.
A data sheet (PDF) says the 600GB model has three platters – the others have two – meaning 200GB/platter. The areal density is 528Gbits/in2 for 512n format drives and 460Gbit/in2 for 512e and 4Kn format drives.
HGST VP for product marketing Brendan Collins reckons two factors are keeping demands for drives like this high: "First, our customers continue to use 15K HDDs along with a complement of SSDs in tiered pools of storage, depending on their performance, capacity, and power efficiency requirements. Our new Ultrastar C15K600 fills a need for storage that is more cost effective than SSDs ... Also, we see that the industry is transitioning away from 15K 3.5-inch hard drives to smaller 2.5-inch drives to help reduce space requirements, while offering comparable capacities to the legacy 3.5-inch 15K products."
HGST's Ultrastar 15K600 is its 600GB 3.5-inch drive spinning at 15,000rpm.
There are encryption options with the C15K600:
Instant Secure Erase (ISE), Trusted Computing Group (TCG) enterprise SSC-compliant Self-Encrypting Drives (SED) or
TCG enterprise SED with FIPS (Federal Information Processing Standard) 140-2 certification, Level 2.
The C15K600 has a 2 million hour MTBF (mean time between failure) rating and an annualised failure rate (AFR) of 0.44 per cent. It comes with a five-year limited warranty.
The 512n and 4Kn versions of the C15K600 are shipping now and being qualified by OEMs. The 512e version will be available this summer. ®