So how many celebrities could you get on board one of these?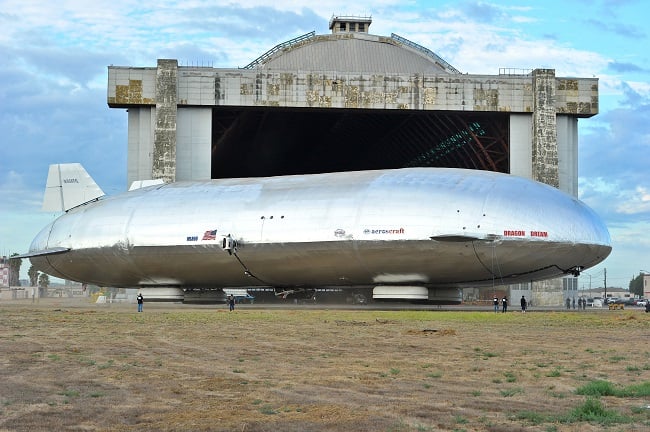 The Californian rival from Aeroscraft
It wouldn't be unreasonable to fill 80 per cent of the Airlander envelope with helium, cutting pressure ceiling down to 6,000 feet or so. This would gain an extra 14+ tonnes of lift.
It would also be possible to carry less fuel. A likely candidate for the engines would be the Thielert Centurion 4.0, said to consume an average of 45 litres of kerosene per hour when used in a light aircraft. A LEMV, though using two engines in normal flight, would probably not burn nearly as much fuel as two Centurion-fitted light aircraft when on station, however: in fact it couldn't lift the necessary 45,360 litres (35 tonnes) of kerosene to achieve 21 days' endurance if it did. But it's clear that it would have carried a lot of fuel to achieve such lengthy endurance. Bearing in mind the maximum all-up weight of 30 tonnes, the likely gas lift of 18-ish tonnes, and assuming the LEMV would always remain heavier-than-air in order to be able to land without using downward thrust, we might say it would carry as much as 10 tonnes of kerosene as a LEMV. As an Airlander, presumably at least 5-8 tonnes of this could be forfeited in favour of extra payload on shorter duration flights - structure permitting.
All in all then, it wouldn't seem unreasonable to suppose that the Airlander could manage a load of cargo or passengers (and supporting structures) of 20 tonnes or even more for short trips. The original US Army LEMV spec did say that the design was to allow for a payload area with generous deck space of 40 x 15 feet - perhaps such a large cargo bay or passenger deck can be attached to the "universal load beam".
So yes, it would seem that an inaugural flight with "hosts of celebrities" at several celebrities per tonne would be feasible. It would also seem that the existing converted LEMV ship could make round-the-world publicity flights: it seems that HAV/Airlander investor and frontman Bruce Dickinson - well known as a former Iron Maiden vocalist, perhaps less so as an occasional airline pilot and aviation businessman, though he is those things too - intends just that.
That's all good clean fun, but nothing we've heard so far would lead sensible investors to pour cash into HAV/Airlander. The British government has coughed up £2.5m on the grounds that the Airlander is "quieter, more energy efficient and environmentally friendly", according to Vince Cable. The plan is to move on and build proper 50-tonne-capacity Airlanders for commercial sale or lease. These would most probably be something along the lines of the former HAV 366 design, also proposed to the US military as a "LEMV Heavy" airlifter.
But will anybody want such ships?