Just under one year after a nearly identical application was published by the US Patent and Trademark Office, Apple has been granted a patent for a "consumer electronic product" – read: smartphone – with a curving display that wraps completely around the device.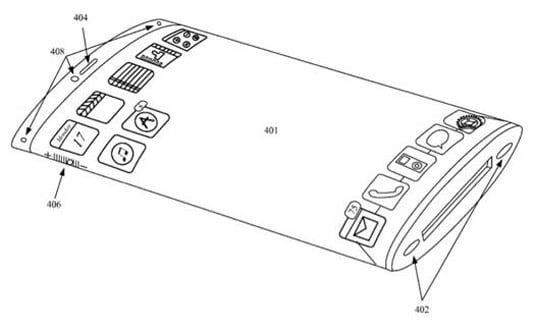 Check out feature #406 – with an all-display phone, physical volume buttons would become virtual, on-screen
As The Reg reported last March, Apple's patent application number 20130076612 described a handheld device with a transparent glass body in the shape of a flattened oval, with a flexible AMOLED display inserted into it, as the application stated, "configured to present visual content at any portion of the transparent housing."
US Patent number 8,665,236, granted Tuesday, describes the same device in much the same words, but with a bit more emphasis that the flexible display described in the application's first Claim can be augmented with a second flexible display, and that the two can "cooperatively present visual content."
The two touchscreen displays, working in concert with an "image capture device" – aka a camera – and "facial recognition computer code," would have the ability to present information on only the side of the handset at which the user is gazing.
This ability could perhaps be used to create a device that does not have a permanent front or back, but instead simply be usable from either side – reversible, as it were – somewhat like Apple's iPhone and iPad Lightning connectors are reversible.
Without a display bezel, more icons could fit onto the side of the display that's operating as the "front", thus allowing more iPhone display real estate without having to widen the iPhone itself. The patent's illustrations, in fact, show five icons across the display, up from four in the current iPhone models.
Of course, this is all speculation – but the promotion of "Electronic device with wrap around display" from patent application to granted patent might give Apple's legal team a bit more comfort in saying "Go for it!" to product designers. ®