This article is more than 1 year old
New 4G router pitched at biz bods sick to death of titsup networks
Um, when you say 'unlimited data plan...'
With increasing 4G coverage, mobile data is becoming a sensible option for corporates who want resilience for their company networks. This is especially true in major American cities which have more mature 4G coverage than the UK, a stark turnaround from the early days of GSM.
Cradlepoint from Idaho has launched a router which combines 3G and 4G mobile coverage with fixed lines for both bandwidth and resilience. The AER2100 can take one or two 4G modems to provide corporate infrastructure. These are Sierra Wireless modules. The router can talk through Ethernet (T1, DSL, cable or Metro Ethernet) and Wi-Fi as WAN. The Wi-Fi comes in 802.11b/g/n and dual band concurrent 802.11ac.
What the new device doesn't do is bond connections. Cradlepoint's Lindsey Notwell explains that in a corporate environment it makes more sense to load balance. "A lot of what you perceive of as speed is latency," he says – and while bonding is good for bandwidth, the latency is poor.
Indeed you might be better off using SIM cards from different networks if you have two 4G modems fitted to provide some resiliency – and that would be a huge complication for bonding. After all, if you are in an area with flaky broadband, you don't want to have to compete with your neighbours for 4G coverage too.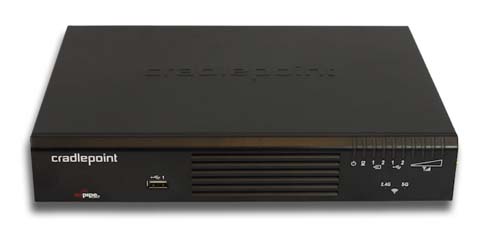 The Cradlepoint routers can be configured remotely, but saying it like that is boring so they are apparently "cloud-managed for zero-touch deployment". There that's much more buzzword-friendly.
The devices cost $1,100 with one 4G modem, a second one adds another $500, mobile data bills will of course come on top of that. You might have "an unlimited data plan" but may well find that it doesn't stay that way for longer than you can say "fair usage policy". ®