This article is more than 1 year old
Data Centre World: It's hard work cooling off those hot racks
Colo show unites mind and body
Show report At the Excel Centre in London last week, co-location of a different sort was in evidence with Cloud Expo Europe and Data Centre World sharing floorspace under the same roof.
It was the first time that the two events had run simultaneously and, at first glance, co-habitation seemed to make a lot of sense.
Yet wandering around from one end to the other was like traversing the mind and body of a data centre's physical and mental existence with colossal generators at one end and at the other, a cluster of table tops and bar stools with advisors aplenty on tapping into cloud services.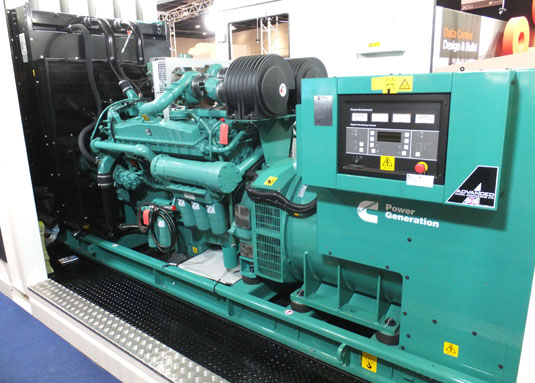 It's bigger than you think: one of the many generators on show, this one from Advanced Diesel Engineering
There was a whole lot else going on in between, but the guts appeared to be absent. You'd not find HP or IBM trying to sell you a server or 60 here, however, they'd certainly be interested in helping you ink a deal on services.
Yet the merging of the two entities certainly helps put some enterprise projects into perspective. Shifting data in the cloud is one thing that is taken for granted, but sometimes there's some serious heavy lifting involved to bring resources together in efficient or low cost data centre environments.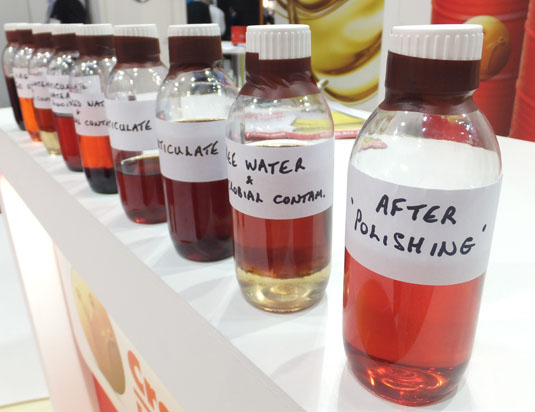 Diesel polishing is a big deal at Data Centre World: Crown Oil takes it to the cleaners
I met up with a data centre manager mate and we soon found ourselves pressing the flesh with familiar faces at Sunspeed, a specialist logistics firm. The company will shift your data centre hardware, in populated racks if you wish, to anywhere on the planet, all worked out precisely to keep down-time to a minimum. A few years back the company relocated 470 facilities down to four data centres for a financial institution, an undertaking that took over two years to complete.
Of course, the big boys will offer similar services, but often it's the niche operators that can deliver in more agile ways that make these events that much more useful and interesting.
Certainly, cooling is an area that attracts some diverse approaches, some such as Excalibur Energy's focus on updating and optimising existing systems, rather than simply swapping out old kit for new. In one project, the company revamped chillers at Manchester Airport – reducing energy consumption by 4,000,000 kWh/year – due largely to Liquid Pressure Amplification (LPA) techniques.
Yet turn a corner and Iceotope, which has just received a £6m investment, is proud to report on its liquid cooling system based around 3M's Novec fire suppression fluid – currently warming up rooms at the University of Leeds.
Iceotope relies on specially equipped cooling racks that are designed to accommodate existing equipment. Heat needn't go to waste, but harnessing this high density computing byproduct does require some commitment and clarity of vision.
On this point, the European Commission funded CoolEmAll initiative looks to improving efficiency from the design level. Part of the project involves developing the Simulation, Visualisation and Decision Support (SVD) Toolkit which will enable data centre modelling to reveal how the physical positioning, cooling, applications and workloads can be configured to improve energy efficiency.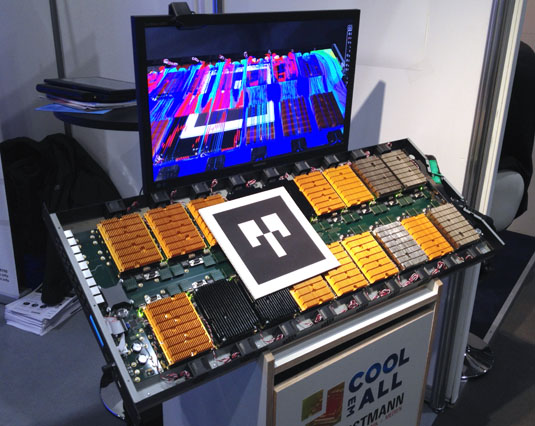 CoolEmAll Christmann hardware testing and thermal imagery
From this, a set of energy efficient hardware blueprints will be made available from the results of this 30-month project. Already on board is German IT supplier Christmann, which is effectively building a data centre in a rack to assist in the design and monitoring process.
Needless to say, if you wander over to Keysource, you'll find there's an app for that. The Data Centre Daily is a freebie iOS and Android app to aid the calculation of energy costs in the data centre, together with a handy convertor to work out rack space availability for a given area.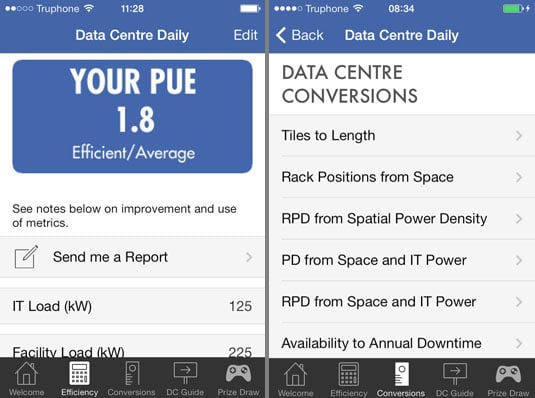 Keysource's Data Centre Daily app: designed to lighten your load
Sure, you could probably work out most of this on the back of an envelope, but Keysource, a data centre design, build, maintenance and management outfit has used some of its own know-how based on numerous projects of its own to come up with realistic figures. The app doesn't demand any info from you that'll scare you off from the start, but if you want a more detailed report on your entries, you can request one.
As always, seminars abound at trade shows and the focus of many was explaining concepts, debunking misconceptions and waving the flag for emerging technologies. One thing was clear, though: the cloud has matured to something that isn't so much an alternative as a growing preference. There will be more on this trend when we publish a report on Cloud Expo Europe tomorrow. ®