Facebook: We want a solar sky cruiser comms net that DARPA couldn't build
Zuckerberg in drone fleet scramble for Africa – report
---
Facebook hopes to operate a fleet of solar-powered flying drones to provide wireless internet connectivity to the poor, it was suggested on Tuesday.
And the Mark Zuckerberg-led social network is considering buying New Mexico-based Titan Aerospace for $60m to make this happen, it's reported.
Titan's drones fly at vast heights – the Solara 60 can reach 19.8km or 65,000ft for instance – to avoid the need for cumbersome regulation: above the jet stream, they can offer satellite-like communications to Earthlings below. Indeed, Titan claims its flying machines are "atmospheric satellites".
Apparently, Facebook wants 11,000 Solara 60 unmanned aerial vehicles (UAVs) to carpet Africa with web connectivity; each one of these 60-metre-wide drones can fly for five years non-stop and carry 100kg, the manufacturer claimed. There is a fun communications coverage builder program on the Titan website; each Solara 60 can relay signals back and forth over a circular area roughly 2,800km sq (1,000mile sq) in size, it's said. Handy for hooking up remote places to ground stations.
Titan reckons its Solara can fly unattended for years, using the wing-mounted solar panels to power the craft and recharge its batteries – although, seeing as rechargeable batteries tend to have a practical life of at most 1,000 recharge cycles, that seems a trifle optimistic at first glance.
Last summer Titan claimed the first deliveries of the bird would start in February this year, the product reaching volume by April, but there seems to be little sign of that on the Titan website.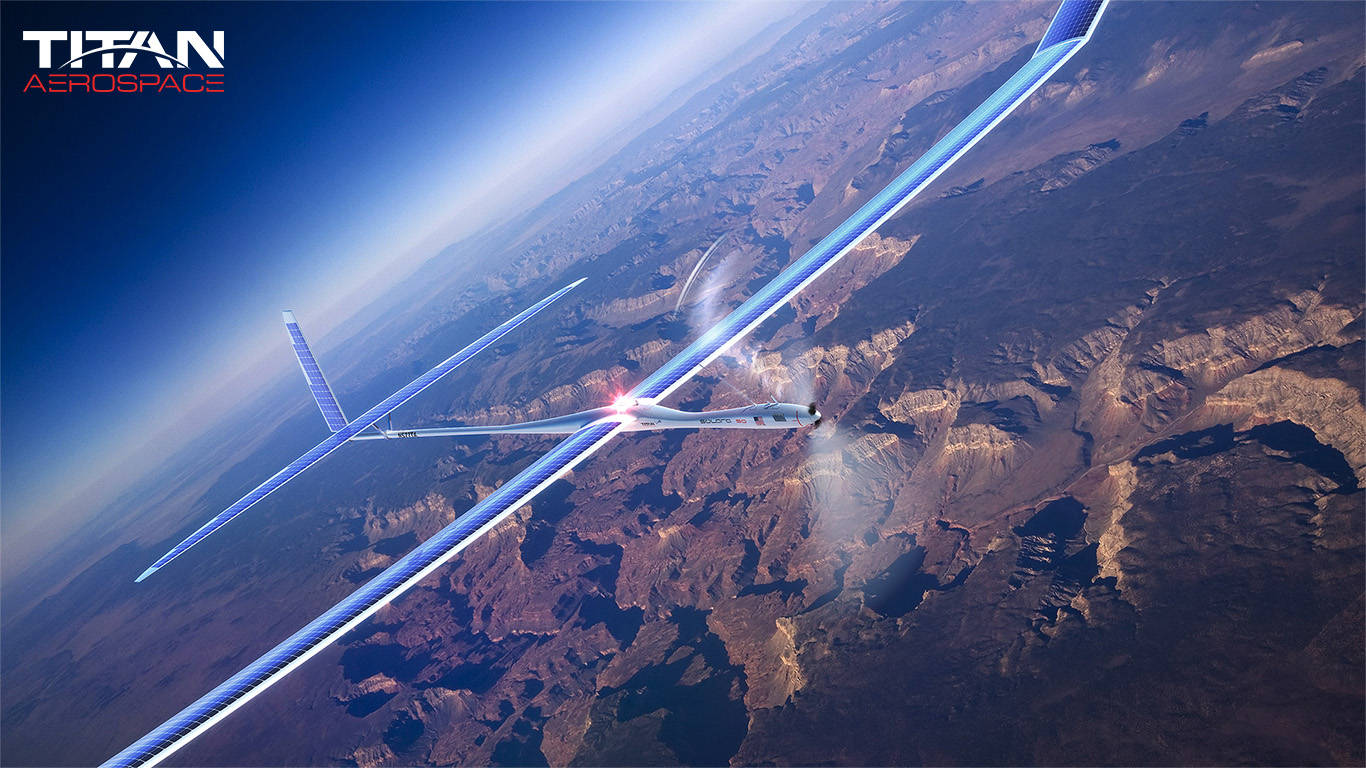 An illustration of the Solara 50 ... a close cousin to the 60 model Zuck supposedly wants (click to enlarge)
Similar projects from Boeing and Qinetiq have yet to produce anything like the endurance Titan is aiming for, and the $13m DARPA Vulture project was scaled back to look at energy storage systems before anything flew.
The theme of Zuckerberg's talk at this year's Mobile World Congress was partnering with mobile phone companies to provide decent wireless internet connectivity across Africa, and while an aerial network as reported on Tuesday may help achieve this, it would be surprising and impressive if anything meaningful on these lines ever got off the ground. ®