Telstra 'snot boxes' challenge Turnbull's FTTN plan
Reg hack gets a front row view of wiring horrors beneath a suburban concrete slab
Rain has been a problem for my fixed line for years.
There have been other exciting ventures in broadband fail over the years, such as when a contractor set fire to a large Telstra pit and cut off 20 homes for three weeks, but rain has been the constant niggle.
It most recently came to a head last weekend – March 1 – when instead of dipping below 1 Mbps, the line died entirely, including dialtone.
After the usual calls to Telstra, I arranged an appointment time for a tech. He arrived at 8:00AM after a promise he'd appear in an 8:00AM to Noon window (well done, Telstra), told me there was an issue in the street that he'd fixed, and asked where the lead-in terminated. I pointed to where the landline and broadband modem were connected, and he said "That's not the termination. We'll need to get someone else to help find it."
I spent much of yesterday finding and eliminating the possibilities, and when a more experienced tech arrived today – again punctually, which does surprise me – we went from room to room together, so he could confirm for himself that there wasn't a single place on any skirting board that showed a black cable.
Finally, the tech opened the old PMG (Post-Master General) pit that feeds my house and the house next door, and fished out two "snot-boxes" (so called because they're filled with yellow grease to protect the terminations). One belongs to the neighbour, one to me. After a little cable clipping, he concluded that both lines are suffering a short to Earth; mine is more severe, so the neighbour's line is still working.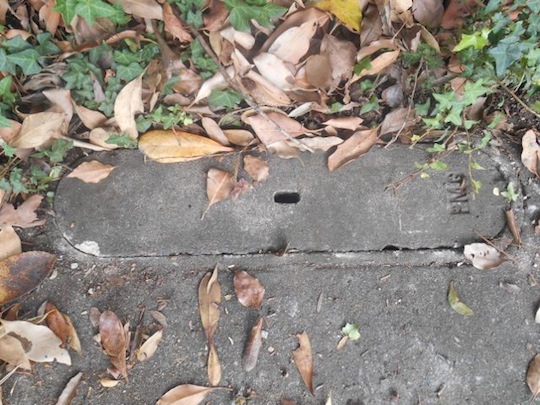 The pre-1970s Post-Master General logo hints at the age of the installation
Then he examined the pit, and looked towards the neighbour's garage. "When do you think that was built?"
My guess is sometime in the 1970s, and I said so, and he looked somewhat downcast.
He indicated where my – and my neighbours' – cables left the street pit, into the same 25-mm conduit. "See, you're sharing a pipe onto the property. That means there's another pit, where the two of you are split. Happens a lot with these old properties. And the pit is in there", he said – indicating the garage.
"Beneath the garage's slab?" I suggested.
"Yep." He then named a couple of possible termination types – another couple of snot-boxes, or maybe dog-cocks (don't blame me for the slang – that would be in the pit, probably now underwater and as good as dead.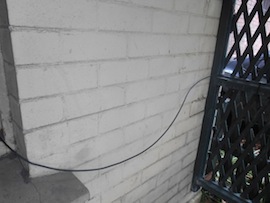 A thin line to the outside world - the temporary lead-in
The solution turned out to be simple: a new lead-in is required. So I currently have exactly the kind of temporary work that people complain about (I'm not complaining, I'm back online): a lead-in cable attached with cable ties to a fence-rail, discreetly hidden behind a lattice, and crossing the front wall to enter via a window. A permanent installation will happen sometime, and I'll get a cable installer to connect it properly.
Back online, with a new lead-in and a fix in the street, and what's my synch speed?
A snip over 5 Mbps.

Your fixed broadband has been fixed, Reg hack
Now, let's take this in terms of Malcolm Turnbull's repeated assertion that FTTN is the only way to get Australia's broadband.
Does anybody know how many shared lead-in pipes there are in Australia?
If not, any prediction of the cost of the project is moonshine.
What of the cost to the consumer?
When a permanent termination is attached to the front of my house, I (not Telstra) will need to pay for an electrician to pull a customer-side cable three metres. Remember the News Limited scare-story that consumers would have to re-wire their homes for the NBN? Any new lead-in will mean a customer-paid-for tech call.
Is it worth it?
VDSL-plus-vectoring isn't going to magic-bullet my pathetic broadband speed. My brand-new lead-in plus repairs to the cable outside gets me 25 per cent of an ADSL2+ service, and I'm a 650m cable run from where the node would be installed. In other words, the government's spend on me, when and if, will probably get me about 20 Mbps.
Before the election, Malcolm Turnbull, now our communications minister, was in full pomp about the questions he believed could not be answered regarding the old NBN plan.
Questions about fibre to the node and just how much work will be needed to get it working for residents with problems similar to mine? That's another matter entirely. ®
Bootnote
Vulture South's other operative, Simon Sharwood, recently found his usually-reliable 12Mbps ADSL2+ connection dropped to around 5Mbps, while voice services died completely. Again, a Telstra tech fixed things up punctually, blaming dirty pits. He now enjoys a 16Mbps internet connection and voice telephony. Simon and Richard both live in suburbs laid out over a century ago and wired for telephony who-knows-when. Tens of thousands of dwellings enjoy similar conditions and many are no longer within the National Broadband Network's fibre-to-the-premises footprint.