This article is more than 1 year old
Hey, Nimbus Data. What you doin' with those 4TB flash slabs? Making a 96TB box? We KNEW it!
New Gemini X-series are pure solid-state hardness
Nimbus Data has announced a 10-node clustered all-flash array that can store up to 96TB in a single box.
The Gemini X-series all-flash arrays build on the current Gemini F-series arrays, which come in F610/F620 variants with 56/40/20 Gbit/s InfiniBand and 40/10/1 Gbit/s Ethernet, and the F410/F420 which lack InfiniBand and use 16/8/4/2 Gbit/sec Fibre Channel and 10/1 Gbit/s Ethernet – data sheet here [PDF]. That document states each box has a throughput of "up to 12GBps" when using 1MB block sizes.
A X-series product is built from X1000 Flash Directors and Flash Nodes. Flash Directors are deployed in pairs for redundancy, and each features "a non-blocking 320 Gbit/s RDMA switch, up to 40 user-configurable ports for connectivity to the existing infrastructure, and centralised cluster management software."
The X1000 provides a single namespace across a cluster of nodes with virtualised capacity and centralised management. Nimbus claims it can load-balance I/O evenly across the cluster nodes, adding that, "at full scale, the Gemini X-series supports up to 40 GByte/s of sustained throughput and four million 4K IOPS, all while maintaining sub-100 microsecond latency across the cluster."
There are X48 and X96 Flash Nodes with 48TB and 96TB of flash capacity respectively, each taking up 2U of rack space. The nodes have a "redundant hot-swappable storage processors and power/cooling modules. Each Flash Node fully offloads hardware-intensive operations like parity protection, inline deduplication, flash management, and encryption."
The X96 uses 4TB flash drives. We know of no commercially available 4TB SSDs, which suggests these are PCIe-format flash drives.
Nimbus boasts, "The Gemini X-series is the industry's highest capacity all-flash array, achieving approximately one petabyte (1 PB) raw capacity [in half a rack], or several petabytes of effective capacity after deduplication, compression and thin-provisioning."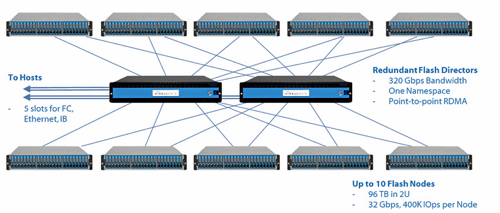 Gemini X-series configuration overview
Nimbus says the systems, with their Halo OS, feature:
RAIN (redundant array on independent nodes) configurations for multiple levels of redundancy,
Multi-protocol support; iSCSI, Fibre Channel, NFS, and SMB, as well as RDMA-based iSER and SRP for ultra-low latency,
Snapshots, replication, encryption, deduplication, compression, and comprehensive management tools and APIs,
All major virtualisation and database platforms are fully supported.
Russ Fellows, a senior partner at the Evaluator Group, provided a canned quote: "The Gemini X-series all-flash array enables data centre administrators to linearly scale both performance and capacity by adding more Flash Nodes."
We have been unable to find a Gemini X-series datasheet on the Nimbus website. Systems will be available for evaluation by what are called "strategic customers" in April with general availability in the summer. No pricing information was provided. ®