This article is more than 1 year old
X-rated Android antics: Motorola's Moto X puts boot in chunky brother
G biz! Does X mark the spot?
Invisible touch
One of the more interesting bits of hardware in the Motorola Moto X is its 10Mp camera sensor, which uses of what Motorola calls ClearPixel technology. In plain English, the sensor's 1.4 micron pixels rather than a RGBG matrix use an RGBC (C for clear) arrangement which apparently can capture up to 75 per cent more light.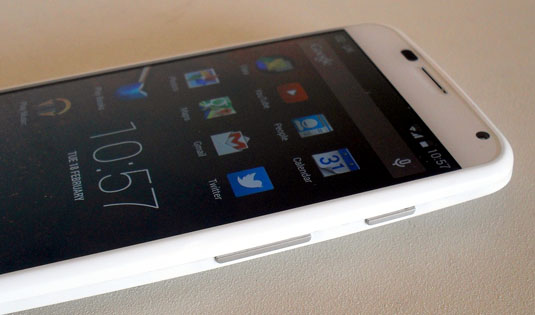 Volume and power controls in familar places
The end result is that the Moto X's camera is a country mile better than the Moto G's in any circumstances, though in low light this 10Mp snapper won't worry Lumia 1020 owners. As for the Moto G's 5MP offering, this is the one place where the budget asking price becomes entirely obvious.
Dig into the Moto X's camera settings and you'll find an option to launch the app by giving the handset a quick double-twist with your wrist. That sounds not a little peculiar but, once you get used to the action, it's a surprisingly quick and easy way to fire the camera up. It's not a feature I recall coming across on a mobile phone before which, on reflection, I find surprising.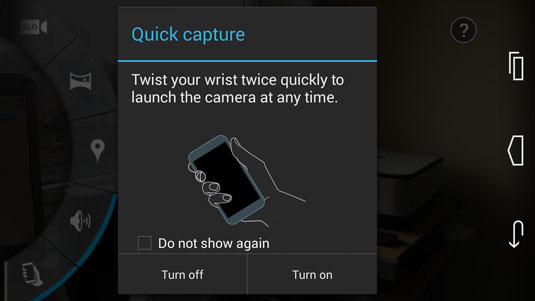 Wrist controlled shooting, anyone?
Other technical advantages that may nudge you towards the Moto X include dual-band 802.11n Wi-Fi, an NFC chip and the presence of a 4G radio (remember, the Moto G has to make do with 3G). The 2Mp webcam is also a step up from the G's rather mediocre 1.3MP affair and the single speaker is less sibilant and delivers a punchier bottom end.
The Moto X also has a few software advantages over the G. The Big Idea is what Motorola calls Touchless Control which lets you launch Google Now by simply saying "OK Google Now". Even from standby. Once launched it works as Google Now always has done but the ability to just yell at your phone in any circumstances and get a reply is extraordinarily useful. It's the first time I've found myself regularly using voice command on any phone, iOS or Android.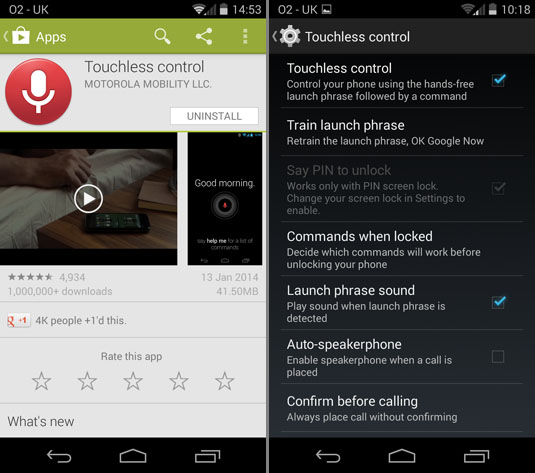 The Moto X Touchless app is hardware specific – you won't find this running on the budget Moto G
The Touchless Control requires a specific low core speed processor that allows the phone to be constantly listening out for you without draining the battery. So don't think you can simply side-load a hacked APK onto your Moto G, as this is a hardware-specific feature. Incidentally, voice call quality and signal reception were both spot on during my test.
Other features which Motorola has added to the Android mix include Active Display and Connect. The former shows various phone notifications – SMS messages, Gmail, missed calls and suchlike – on the lock screen when you take the phone out of your pocket or bag. You can tap the icons to go straight to the related apps. It's a peripheral but not un-useful little feature.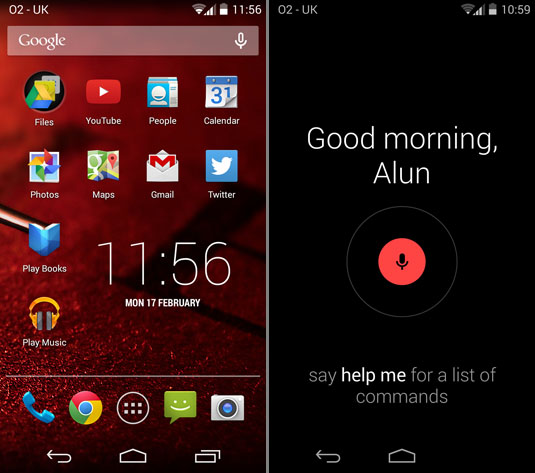 Close to stock Android and Google Now voice commands
Connect, meanwhile, allows you to read and reply to texts, and see who's calling you from your Chrome browser. Still, that's nothing you can't also do with the Moto G using any one of a number of third party apps.
British Moto X handsets are arriving with Android 4.4.2 KitKat installed out-of-the-box. Since reviewing the Moto G I've received several emails from El Reg readers complaining that their Moto Gs don't play nice with KitKat although I have to say my own Moto G has worked faultlessly since the update. So maybe the X is a safer option if you want a bang up-to-date incarnation of Android.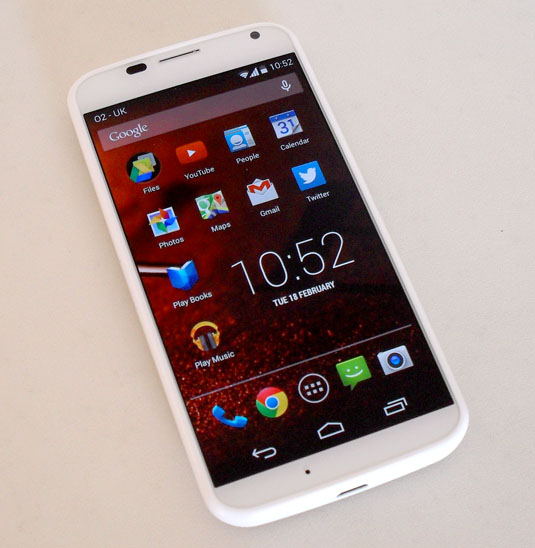 It took its time getting here, just a shame about the US/UK price differences
Before I wrap up I have to say that I think Motorola has missed a trick by not letting European customers access the Moto Maker facility. Sure it would take a few extra days to ship the handsets across the Atlantic, but I'd happily pay a few extra quid and wait a week to have my Moto X with a wooden back panel and my name engraved on it. The price could be a bit more aggressive too. After all, $330 vs £300 is a poor exchange even allowing for VAT.
The Reg Verdict
So, is the Moto X worth the extra cash over a Moto G? If you are buying SIM-free or PAYG and don't have or want a 4G service, then arguably not. The Moto G is such idiotically good value such that it beats every other mobile on the market hollow, if you are paying upfront. But if you are buying on contract and the difference is a fiver or less a month then it's not such a clear-cut choice.
The Moto X is smaller and lighter, supports 4G, has more storage, better battery life, a much better camera and a larger screen. It's also a genuine delight from an ergonomic point of view. The voice command system is a feature you quickly grow to appreciate and I say that as a man who thinks voice command is vastly overrated as a concept.
Would I pay an extra £5 a month for an X over a G? I think I would. And don't overlook the fact that even at £300 SIM-free, the Moto X is still £170 cheaper than an Apple iPhone 5c. ®

X-rated Android antics: Motorola's Moto X puts boot in chunky brother
Dual-core Kit-Kat Android smartie with a 4.7in screen and an impressive battery life.
Price:
£299 (SIM-free), from £21 pcm on contract RRP