Microsoft to get in XP users' faces with one last warning
XP-ocalypse death dialog could confuse the heck out of Grandpa
---
Microsoft will give Windows XP users one final warning that their operating system is about to go feral.
Redmond's been talking up the death of XP for two years, but will now use the operating system itself to put the news of the software's demise right in the face of every single user with the dialog box below.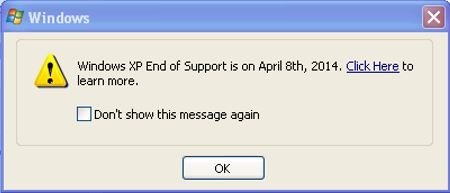 That message will appear on all XP desktops on March 8th, Microsoftie Alex Guy reveals in a blog post.
Guy writes the appearance of the dialog shows "we're continuing to focus on ensuring everyone is aware of the deadline and their options to remain secure and supported."
The link in the dialog takes one to the Windows XP End of Support website, where Microsoft tells you to either upgrade your PC to Windows 8.1 or consider buying a new one.
Credit where it's due: Microsoft is making the effort. It's also forged struck up "a partnership with Laplink to make available a new free tool, allowing individuals to easily copy files and settings from a Windows XP PC to a device running Windows 7 or newer."
On the downside, both the dialog and site also look like they have the potential to confuse less-than-technical users, making lots of extra work for Reg readers who find themselves pressed into unpaid domestic sysadmin duties.
Whatever happens April 8th and subsequent days are going to be the most interesting times in IT since January 1st, 2000. And we all know how that worked out. ®