While the new Plantronics Bluetooth sports headset does have a microphone and you can make phone calls – that's really not the intention.
The whole phonecall bit features is listed as the ninth item in a 10-item feature list – and even then with the phrase "BackBeat FIT headphones built-in microphone allows users to take and make occasional phone calls without having to touch their mobile device..." adding "easy-to-access on-ear controls let them control their music with the touch of a finger" – so even then it's "get off the phone and let me listen to my music".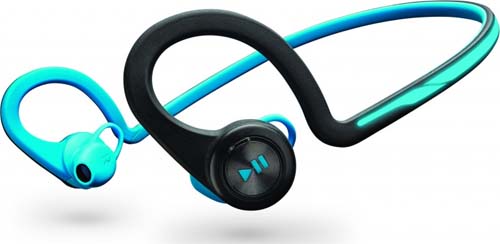 And that is the raison d'etre of the Backbeat Fit. Its high quality audio is all about listening to music while you lead the oh-so-fashionable fitness lifestyle. Mobile World Congress was a convention of greying unfit attendees, mostly men, all of whom were certain that mobile tech for fitness fans was the way to make money in 2014. Plantronics clearly agrees.
Truth be told, the BackBeat Fit is a very nice mobile phone headset. Other things it does which are more important than making phone calls include gripping your head and ears nicely so that it won't fall off when you are exercising. It's tough and sweat-proof, and comes in bright blue or green with reflective materials for late-night jogging sessions. The carrying case doubles as an armband for your phone – although Samsung would argue that you don't need that as your Galaxy Gear watch can be your music player. When you want to put the headset back into the case it all scrunches up nicely.
The mobile phone operators are lamenting the falling numbers of minutes their subscribers are using. Perhaps that's because all the customers are too busy listening to Pharrell Williams; happily his rather suggestive hat can't be seen over audio. ®