BT may insist that it is committed to a smooth transition to the new interwebs address system – IPv6 – but a quick glance at the company's corporate website last month left some Brits questioning the one-time national telco's promise.
That's because the telecoms giant embarrassingly failed to spot the fact that its security certificate had expired when BT.com was accessed via IPv6.
The blunder remained in plain view for three excruciating weeks, and appears only to have been fixed after The Register got in touch with BT to point out the howler, despite the company being notified about the cockup by a handful of tech types over the course of the past few weeks.
A BT spokeswoman gave us this statement:
The SSL certificate on bt.com expired on Feb 12th 2014 at 00:59. An administrative error resulted in BT not being aware that the certificate was about to expire. Once BT was aware of the issue the certificate was renewed and this was in place on 3rd March 2014.
Just days after BT's own SSL cert over IPv6 expired, the firm's Diamond IP boss Tim Rooney crowed in a blog post about how customers could make block allocation "easy" under the new address plan.
The BT spokeswoman told us that, despite the blunder, the ISP was "fully committed to IPv6 and has exciting plans for IPv6 in 2014, we will share more details with customers in the coming months."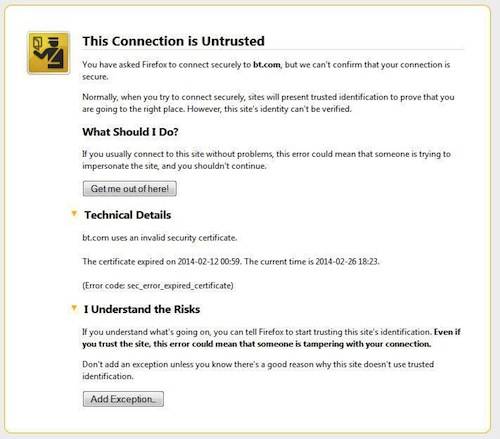 Hat-tip goes to Stefan van der Eijk via Twitter
In the meantime, though, customers seeking information about BT's IPv6 plans are greeted with an out-of-date webpage that states:
We, in BT, continue to manage efficiently our allocation of IPv4 address space and are also taking the necessary steps to manage a transition to IPv6. We are committed to the development and support of IPv6 on our networks and services and have a programme of investment in our network and systems over the next few years.

During 2011 and 2012, we will be working on our plans for full introduction of IPv6 to our Global and UK platforms, including hardware and system upgrades.
So that's all right then! ®
Thanks to Reg reader Jaroslaw for also flagging this up to us.
Similar topics