Inside Facebook's engineering labs: Hardware heaven, HP hell – PICTURES
Better duck, Amazon... Hardware drone incoming
---
All aboard the sushi boat
The "Sushi Boat" server (below) is an example of why Facebook is confident that its software development mantra of "move fast, break things", has relevance in hardware as well.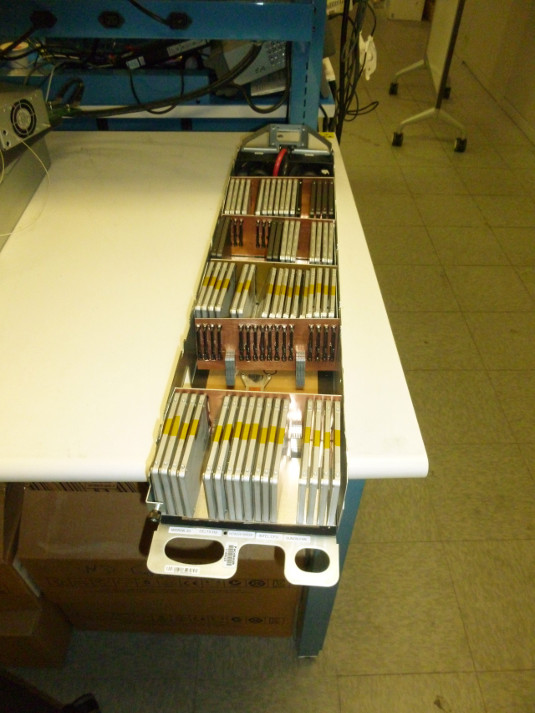 This "Sushi Boat" server can fit in up to 80 SSD cards
The server (pictured), was put together by a team of Facebook engineers during one of the company's hackathons after they found that the company had a large amount of 2.5-inch laptop SSDs lying around.
Using a combination of balsa wood, cardboard, and briefly a Makerbot 3D printer, the team was able to mock up a prototype server which can cram in up to 80 SSDs.
"They designed the I/O system, the whole thing," explains director of hardware engineering Matt Corddry. "It's a really neat design."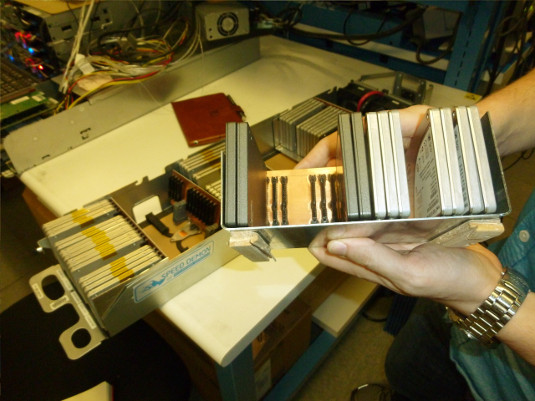 The Sushi Boat drives are loaded via little containers
What stunned Facebook was that when it came to evaluate the design according to how much power it consumed, how much it would weigh, and how many bits you could get, it found that it was a much better proposition than Facebook's existing "Cold Storage" servers.
"All the SSDs for the system were horribly engineered," explains Taylor. "If we were to then take the expectations we have for archival storage and map onto SSDs you could get a much higher bit density and lower performance. An SSD solution for archival storage is not at all absurd."
Though Facebook has no immediate plans to deploy this into production, Corddry did say the design would be "a backpocket thing for us," and Facebook could use the prototype to create a production server at short notice.
It's this combination of imaginative design and flexibility which makes the social network think it makes sense to operate a hardware lab.