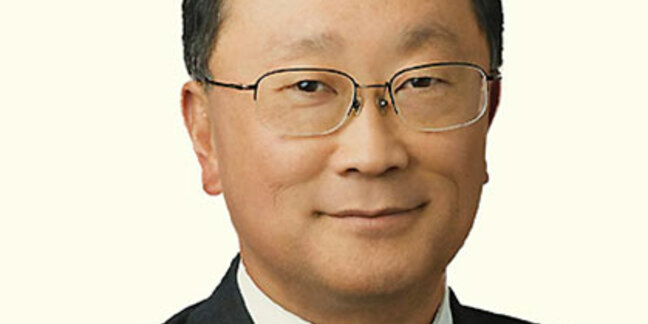 Will BlackBerry be able to recover from its recent woes and once again become a profitable company? To hear BlackBerry CEO John Chen tell it, the chances of his turnaround strategy succeeding are about as good as a coin toss.
In a newly published interview with the Financial Times that was conducted during the Mobile World Congress conference in Barcelona last week, Chen said he thought the company had a "50:50 chance" of escaping its downward spiral, but added that he remained optimistic.
"I think when you look at turnaround history in the technology market – although there's not a lot – but not too long ago IBM went through it, and not too long ago Apple went through it," Chen said. "I think this is really about catching the technology market wave. And if we've done it correctly [BlackBerry] could be a dominant player again."
Chen has made a number of aggressive moves since taking over from previous BlackBerry CEO Thorsten Heins in November. Most notably, he's shaken up the company's top executives and he forged a new partnership with Taiwanese electronics manufacturer Foxconn.
By teaming up with an outside manufacturing partner, Chen hopes to avoid the crippling inventory write-downs that plagued BlackBerry throughout 2013, which he said the Canadian firm "cannot just keep enduring."
The Z3, the first Foxconn-built BlackBerry handset, is due to ship in April at a sub-$200 price point, and Chen said the two companies are already in talks about producing a second device.
In addition, Chen said that BlackBerry Messenger (BBM), the company's secure messaging platform, remains "a very, very strategic part" of the company's server business. The service now claims 85 million monthly active users, having expanded to include Android and iOS users for the first time in October, and BBM clients will soon come bundled on Android and Windows Phone devices from Nokia.
Asked whether BBM might soon be worth WhatsApp's $19bn, however, Chen dodged the question, but said he always keeps the best interests of shareholders in mind.
As for when BlackBerry shareholders might see results from Chen's turnaround plan, the CEO said he hoped to see the company's cash flow break even within four quarters, and that it would return to profitability by the end of March 2016.
"Everything else – we've released new phones, the server technology, the BBM expansion, the QNX wins – all of that is just support for the two things I mentioned," Chen said. "So I think that's going to be the measurement." ®
Sponsored: Webcast: Discover and secure all of your attack surface