This article is more than 1 year old
John Lewis to respray with coat of Oracle ERP: Don't worry, we won't be 'wall to wall' Larry
New 'omni-channel' strategy includes (shock) Windows 8 tabs
We know people research online before they come into the store
"People [in retail] say 'channels' but that's only where the money is spent. To take away those boundaries is really important," Coby said.
"What we are about is recognising that customers are changing the way they shop," Coby said. "We know two-thirds of John Lewis customers will be shopping across channels – researching online and coming into the store. If you buy a TV, you will want to look at it and then order it online – not try to carry it out of the store."
Arguably, John Lewis doesn't need to do this, of course, judging by this Christmas' results.
This retailer saw its sales grow seven per cent compared to the year before, bagging £734m for the Christmas period.
Online biz was driving most of the growth – it accounted for 31.6 per cent of the retailer's entire business at its peak.
Click and Collect, which lets you buy online and pick up at the store of your choice, exploded – was up 60 per cent compared to a year ago.
Such was the pace John Lewis sold an iPad every 15 seconds making a shop founded in 1864, when Queen Victoria was on the throne, Apple's second largest reseller in Europe.
Coby attributes the seasonal success to "substantial" investment in customer, business and online systems. Within the last few years that has included a brand-new EPOS systems going into 40 stores and a £40m new ATG web platform that only went live in February 2013.
ATG runs on John Lewis's own hardware – 150 servers, mostly AIX, running at two data centres in the South East – which also support the Waitrose online operation.
The ATG system was on the front line: handling a 323 per cent increase in orders over a normal trading Friday on 28 November (Black Friday), for John Lewis and a 1,340 per-cent overall spike in mobile traffic.
The new site broke company records: by 9.30pm on Black Friday it had processed the most amount of kit John Lewis had ever sold in a single day online – with two-and-a-half hours trading left to go. John Lewis was making use of the site a few weeks later, when it was provisioned by IT and spun up in co-ordination with marketing for the opening of a 5pm Christmas Eve sale. The site peaked at 890 transactions per second.
All this helped nudge John Lewis into the winner's quadrant for the holiday season. Some retailers stumbled badly, despite the existence of an online presence and attributes such as home delivery.
And yet, John Lewis wasn't the best performer: that honour went to Next.
Next grew 11 per cent with online up 21 per cent and made so much money it declared a one-off £0.50 dividend. House of Fraser grew 7.8 per cent with online up 11 per cent.
The heat isn't just coming from the high street: it's coming from internet pure plays too.
Asos claimed a 38 per cent increase to £336m with CEO Nick Robertson crowing Asos had been benefiting from a structural shift online for 10 years.
And then there's Amazon, even though Coby says John Lewis differentiates itself by value and selection. It doesn't – can't compete – with what he calls "infinity" retailers.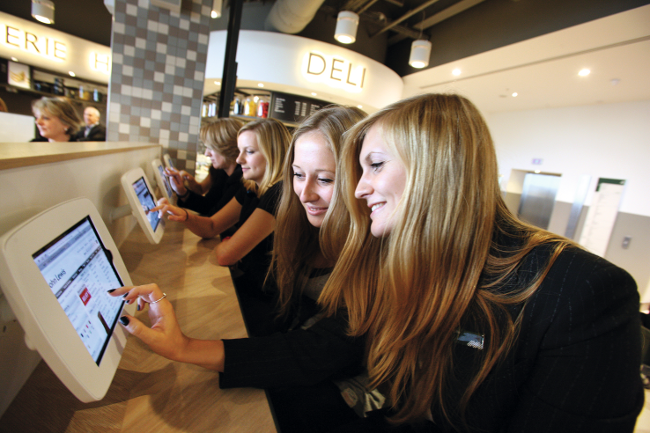 From Click and Collect to touch and go, with tablet shopping
John Lewis doesn't try to beat the online retailer on endless choice, rather to offer carefully selected items and additional extras like free returns and extended guarantees.
The John Lewis website has been designed to be clean and colourful and to get customers to check-out points easily. Fashion now comprises a third of online goods – 200,000 to 250,000 different lines.
Meanwhile, John Lewis has faced some challenges.
C&C me-too factory
The physical shops didn't grow as fast as the online business and that's a problem given they occupy expensive land so must pay for themselves.
Also, while John Lewis pioneered the idea of Click & Collect, it lost that edge years ago. The concept of Click & Collect has become a universal standard among British retailers and they are chucking it back in John Lewis' face.
It's time for John Lewis to refine its operations and know more about the customer. Click & Collect is a massively complicated logistical operation behind the scenes, spanning ordering, inventory, delivery and notification all within a very short time frame. The trick for John Lewis is how to improve this with things like new ordering, delivery and returns options.
Returns is a particularly hot topic, given customers buying clothes often order multiple items to try them and return those they don't want.
When it comes to getting to know the customer, John Lewis needs know who is browsing where and what interests them – now and in the future.
"How we used to run IT in retail was like this," Coby says. "Technologies focused on supporting the shop, or the new online environment, or the distribution, or marketing. What we need to do is to manage across channels, and you can get only so far with legacy systems."
He says he learned from his former employer British Airways, where it wasn't enough simply to have a glossy website that was separate from the business. Online must be integrated with the business. He says he saw the budget airlines like EasyJet and Ryan Air nearly knock out the traditional players through their exploitation of the internet.
Looking at this Christmas's trading, not everybody did well just because they had a website or offer fancy delivery options. Tesco and Marks & Spencer both fell - 2.4 per cent and 2.1 per cent – at a time when selling to consumers is supposed to be like shooting fish in a barrel.
These big names suffered a combination of problems but two of the chief issues were the growth of budget-priced competition and web and mobile shopping.
Coby joined John Lewis in 2011 and first presentation to the foreshadowed the changes needed and that he's now putting into practice.
Coby said he told the board John Lewis had to do three things – track, know and manage. That meant following every product coming in from suppliers and moving to warehouses and stores. "The knowing bit is to understand what they bought from us, because you may wish to return it or may wish to buy more," Coby said. "Being absolutely in control of your inventory and flexibility across all channels is something you need."