This article is more than 1 year old
John Lewis to respray with coat of Oracle ERP: Don't worry, we won't be 'wall to wall' Larry
New 'omni-channel' strategy includes (shock) Windows 8 tabs
Keep calm, it's only ERP
All of which brings us back to that potentially risky ERP rollout.
ERP projects can go wrong in all kinds of ways, but they boil down to three basic causes: a failure to specific the system properly at the start, the addition of more features as the project progresses, and over customization. These problems manifest themselves as extra costs and missed deadlines and staff hating, and not using, the new system.
Companies pay dearly for ERP because these systems run their operations.
If anybody is in a position to captain this, surely it's Coby.
Formerly the CIO of British Airways, Coby left the company in January 2011 after 11 years. He had started that airline's ERP rollout in the 2000s. The project was shelved in 2009 as the management decided to conserve spending in response to the economic recession. Coby has been with John Lewis since March 2011.
The design phase of the John Lewis implementation is now in full swing with employees in the loop. Customisation will be kept to a minimum – the retailer is using Oracle workflows and adapting its own where there's a gap. The project has also undergone a "readiness audit" by KPMG while Coby has hired a programme manager from Accenture whom he said has relevant experience.
Keeping an eye on things – along with Coby himself – will be director of operations Dino Rocos, who oversaw the installation of John Lewis's £70m, 850,000ft2, semi-automated national distribution centre Magna Park, near Milton Keynes, which was finished in 2007.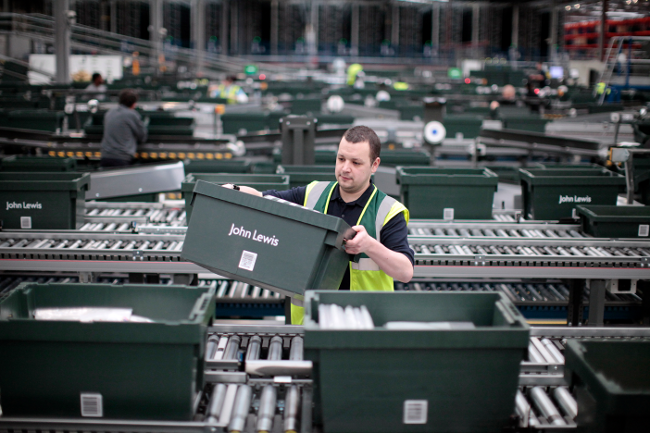 Click and Collect: behind the scenes of a complicate fulfilment process
Coby reckoned he has also been "realistic" in terms of the ERP project's different stages and "we are giving ourselves enough time to design it properly and them implement".
That said, Coby and Rocos will be keeping "a very close eye" on changes to the Oracle specs that might lead to feature creep. "I think we are going into it with our eyes open," he told us. "You need to monitor and manage these things very, very carefully."
Search and rescue
Coby said he has already been working "very closely" with Oracle and Oracle's uber head of retail, senior vice president and general manager Mike Webster.
According to Coby, he conducted exhaustive scrutiny of Oracle and SAP and "others" in terms of functionality and reckoned Oracle came out on top. "We spent a lot of time talking to them. We did an exhaustive scrutiny of them and SAP and others in terms of functionality; they [Oracle] scored best.
"They didn't do everything we wanted or need. Clearly one of the traps is customisation, but you have to recognise all businesses are different, so you can't escape it entirely," he said.
The SI search was also rigorous: Tata Consultancy Services (TCS) was picked from a list of 12. "We chose the team, not the company: the people with the right experience," Coby said.
Of course, some wouldn't just be wary of changing the ERP system – they'd also be concerned about betting a crucial part of the business on a single supplier.
As Oracle buys more software companies and diversifies into servers with the 2010 purchase of Sun Microsystems, CIOs want to diversify and rely less on one company.
There are also plenty in the business who also feel Larry Ellison and Oracle are rich enough already.
With the ATG web engine – ATG was bought by Oracle in 2010 – and now ERP, John Lewis looks like it is starting to get pretty deep in the embrace of Ellison.
A decision has yet to be taken on the hardware that'll run the ERP system – picking it is part of the current design phase - and Coby he says he doesn't intend to be "wall to wall" Oracle. Since buying Sun in 2010, Ellison can do you a nice line in servers, too.
But, Coby reckons working with Oracle is simply a matter of managing the supplier relationship. He says he wants to work closely with Oracle in order that John Lewis gets the best from the system by working with those who know it best.
"I spend a lot of my own time getting to know the senior people and key suppliers because that's important. If the first time I speak to [senior vice president and general manager Oracle retail] Mike Webster is if something has gone wrong, it's not the best time to talk to him," he says.
Further, Coby is picking technology on a case-by-base basis. And, in come cases, he is embracing ideas hurting traditional IT suppliers like Oracle. Coby's picked Salesforce for John Lewis' new CRM; it's cloud-based versions of traditionally site-based software like CRM that's hurting Oracle.
The CIO is also testing cloud-based versions of collaboration services rather than sign a licence for site-based software from the likes of Microsoft.
Gmail and Google Docs and Drive are being offered to staff in three of the 10 John Lewis @Home stores which sell home goods, in Chichester, Tamworth and Ashford. The idea is to give staff the ability to share docs and to communicate at a price that makes sense for the business, without having to fork out for lots of new software licences. Familiarity and ease-of-use are also important, as many staff will already be familiar with Gmail.
"We are supporting our partners who we haven't invested in," Coby said. "They don't need enormous super computer power but they need easy access to emails and collaborations. Just getting something that enables people to share docs and spreadsheets seemed like a good bet to us."
Coby's keeping an eye on the companies in Silicon Valley that are now considered to hold the baton on technology innovation.
The John Lewis board recently toured Silicon Valley where they met executives from Apple, Google, Twitter, Facebook and Oracle. "We need to stick close to Apple and we need to stick close to Google, to see how they go," Coby told us. "I guess we know wearable devices will be there, but do we know how they will develop as products and who will win? No we don't."
"How the hell will we use those in stores? We don't know yet, but clearly the ability to give our partners [employees] access to information is going to be really important," Coby said.
Tablets are making an appearance inside John Leiws, too – only here there's a twist as Coby is giving Microsoft a crack at the whip.
He is piloting Hewlett-Packard tablets running - shock - Windows 8. They are being tested by staff in three stores. Coby has gone Windows 8 rather than the more popular iPad or the cheap-as-chips Android route. Elsewhere, it's Windows 7 on PCs with John Lewis last year completing a Windows XP desktop migration ahead of this April's end-of-extended-support deadline from Microsoft.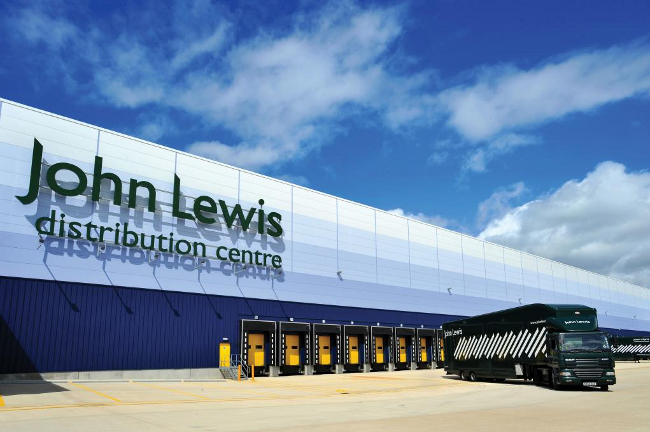 The exec behind this Magna Park monster will steward John Lewis's Oracle landing
Coby didn't give anything away on how the HP and Windows 8 tablets will be used but hinted at "secure checkout". He also reckoned Microsoft is "very excited" about the pilot. We're not surprised, given how badly uptake of Microsoft's supposed answer to iOS and Android has gone so far.
Why keep the faith with Microsoft when the consumer-going world's gone Android and Apple and when such devices are leaking into the workplace?
Coby told us John Lewis operates a two-pronged device strategy: customer-facing systems are written for Apple's iOS and then for Android, tracking what customers are using so they can buy from the website and through mobile. Like most, the majority of online traffic for John Lewis is via Apple smartphones and tablets. But for in-house and staff-facing systems, it's Windows.
The tablet pilot is tapping into existing Windows-based stock and some green-screen systems. "It will enable us to find out if this really works," Coby says of the tablet experiment.
John Lewis, like many businesses, has a considerable investment legacy in Windows infrastructure and IT skills. That makes Microsoft a relatively safe and sensible bet rather then blow time and money on a fancy new mobile computing project that might not work and that gets scrapped.
"We have so much there," Coby said of Microsoft. "There is a big decision at a point in the future, about where you go: do you go Android, do you go iOS, do you go Windows? But in terms of taking core legacy systems, turning them into apps and presenting them on Android or iOS - that's going to take some time and effort. We could invest a lot of money on that and find it didn't go fantastically well."
These are challenging times for British retailers and some big names are wobbling. Cut-price competition combined with rise of mobile and web shopping and some flat-footed business decisions means some familiar high-street names are losing customers to internet pure plays and switched-on high-street rivals.
John Lewis has embraced new channels to keep ahead. Multi-million-pound investments in the web are paying off in spades - and so very soon after completion. All eyes will now be whether John Lewis can complete a clean ERP delivery and whether that pays off equally well. ®