This article is more than 1 year old
Very fabric of space-time RIPPED apart in latest Hubble pic
Cluster upchuck: Highspeed galaxy hurls star-making fuel during violent passage
Spiral galaxy ESO 137-001 is ramming through the Norma galaxy cluster so hard it's spilling its guts out, leaving bright blue streaks of its own gases behind.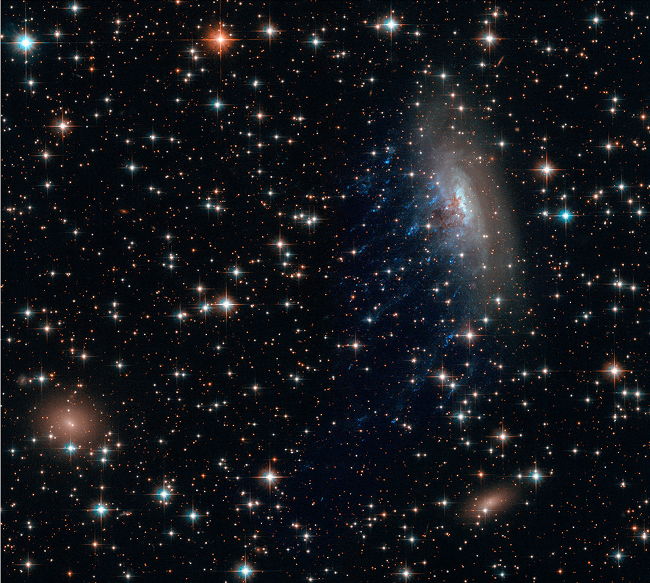 The spiral is zooming in between other galaxies in the Norma cluster, over 200 million light years away, at a speed of nearly 4.5 million miles an hour. The galaxy is ploughing through so rapidly that much of its own gas is being caught and torn away in a process called "ram pressure stripping". Only the binding force of the galaxy's stars' gravity keeps them intact.
The brown smoky region at the centre of the spiral is also being pushed by the ram pressure, but it leaves dust particles, rather than gas, behind it.
The violent passage is illustrated by the tattered threads of gas captured by the Hubble Space Telescope as blue jellyfish-like tendrils trailing behind the galaxy. The pressure has pulled the gas out of the spiral galaxy and out across intergalactic space, where it has erupted with young, massive stars which pump out light in vivid blues and ultraviolet.
The effect of ESO 137-001's journey is to leave the seeds of star-making in its wake, but the galaxy is losing so much of its stellar fuel in this way, it's likely to have trouble making its own stars in the future. ®