DataDirect Networks has extended its WOS object storage product with a global data protection facility and an archival node, claiming WOS now supports the entire unstructured data lifecycle.
The new release is called WOS 360 and it builds on the WOS 3.0 ObjectAssure erasure coding technology to provide Global ObjectAssure.
The company says customers can have data protection work inside a single data centre or across multiple ones: "WOS technology is the only platform that provides local, replicated and globally distributed erasure coding."
Global ObjectAssure (G OA) is designed for use cases requiring low network overhead with high levels of data durability. It features both local and global protection. Rebuilds use local copies unless the site goes down, in which case the remote data is used. DDN envisages G OA typically being used for three or more sites and large archival data sets.
The local copy of ObjectAssure and replicated ObjectAssure schemes complement Global ObjectAssure.
DDN says WOS360 can be configured as a single-site design, a replicated dual-site setup or any number beyond that, noting that a larger number of sites offers great latency optimisation benefits.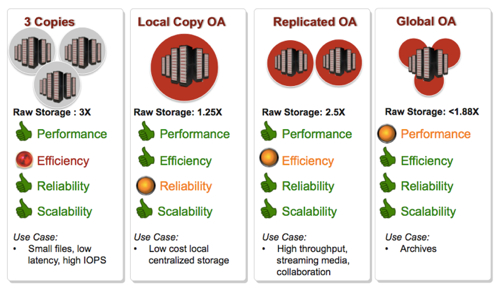 WOS Object Assure schematic.
The WOS7000 archive node takes data from a standard WOS node and stores it for the long term. The box features:
Object server and 60-slot tray
Supports for up to 60 4TB SAS drives - 240TB
10GigE, 20GigE, IB interconnects
Up to 64GB memory
128 nodes/cluster
1 trillion objects/cluster.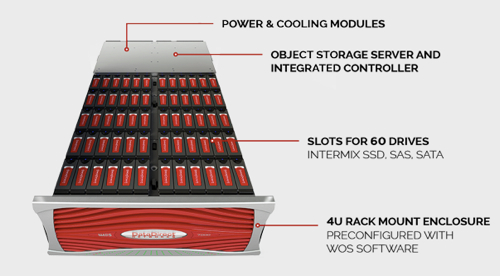 WOS7000 Archive Node.
DDN has a WOS Connect application integration programme for partners so they can integrate their apps, as can end-users, with WOS storage, using native RESTful APIs. This storage has "a flat, single layer address structure where objects are stored in a contiguous group of blocks so that disk operations are minimised, performance is maximised and disks are used at full capacity."
There is no POSX file system on the disks.
WOS Connect includes an on-boarding programme to help educate and enable partners with go-to-market training and tools.
The company has, by the way, joined the Active Archive Alliance, which is a cross-supplier body formed to "educate end user organisations on the evolving new technologies that enable reliable, online and efficient access to their archived data."
Chief marketing officer Molly Rector was a strong proponent of this alliance while at her previous employer, SpectraLogic.
For DDN, "an active archive is a method of tiered storage which gives the user access to data across a virtualised file system that migrates data between multiple storage systems and media types including solid-state drive, hard disk drives, magnetic tape, and optical disk."
WOS360 can be ordered as:
An integrated plug 'n play system on WOS7000 storage nodes,
OCP-ready Hyve hardware for scale-out Web use-cases,
In software-only form.
WOS 360 has limited availability now with GA by the end of March. The archive node is said to be low-cost although no pricing information was supplied. ®