Photo giant Getty Images has announced it will allow 35 million of its images to be embedded on non-commercial sites such as blogs, message boards and social networks.
It's via a new Embed tool, similar to Twitter or YouTube's iframe HTML, which allows the image to be pasted onto a web page, and allows Getty to track usage.
Getty retains the copyright – although most of it is other people's stuff – and host the image, but only at the size and resolution Getty permits. The terms and conditions of use state that the image can't be used for commercial purposes, promotions, or political or defamatory uses.
That doesn't rule out Getty itself commercialising the images, of course, as it will be able to inject advertisements into the player. So one day it might look similar to Facebook today, and use the internet's scale to monetise other people's creativity.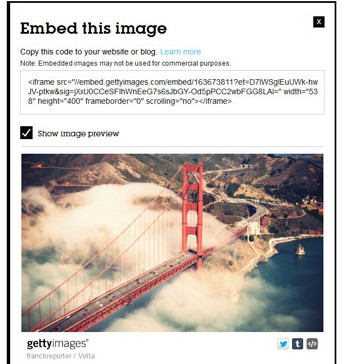 The Getty image embedder
Martin Orpen, co-founder of the UK photographers self-help group Pro Imaging, told us he feared the Getty move may make it harder to sue wilful infringers. Photographers have been successful in bringing cases (and often these are large corporate users such as newspaper groups), while the UK has shaken up its court system to bring in low-cost access to justice.
The Intellectual Property Enterprise Court is what the old Patents Court used to be called, and it can also hear small claims: fast-track copyright infringement cases under £10,000. This latter part isn't very well known - if your snap that you posted to Flickr has been used by somebody without your permission, did you even know you could use the law cheaply?
Orpen says the royalty-free imaging model has a highly politicised history.
"After we formed around 10 years ago, everyone backed down from challenging royalty-free, and simply turned over, including some that shouldn't have. Some photographers were actively dumping their images into Royalty Free simply to make a fast buck, undermining photographers everywhere."
"We look at Getty and the big libraries with huge suspicion."
The two giants, Getty and Corbis, the latter founded by Bill Gates, have increasingly come under pressure from very low cost microstock libraries. Getty acquired a clever image recognition software system called PicScout a few years ago, which can identify a potentially infringing image from just a fragment. ®