Blocks and Files An analyst at 451 Research has suggested EMC set its Information Intelligence Group and its Documentum software free by spinning them off or selling them.
Documentum and its parent Information Intelligence Group (IIG) have regularly underperformed business-results-wise compared to EMC's other divisions.
451 analyst Alan Pelz-Sharpe notes in his impact report on the matter:
At 451 Research, we believe it's time for EMC to divorce itself of IIG, a product division that never really fit into EMC as a whole, and has continued to disappoint CEO Joe Tucci. There are two very good companies here, the storage and cloud giant EMC, and the business application wannabe IIG, aka Documentum. Both groups are trying to do the right thing, but find themselves pulling in different directions.
Pelz-Sharpe thinks IIG has lost energy and status compared to competitors like OpenText, Alfresco and IBM FileNet. A chart below shows its comparative progress since 2006 compared to Open Text: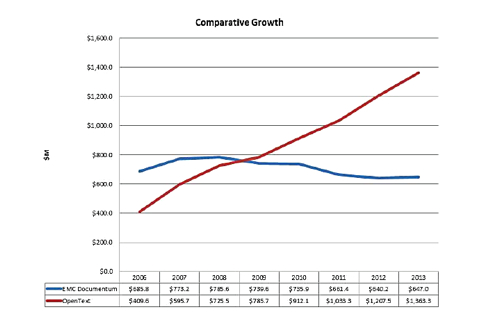 Documentum (blue) and OpenText (red) progress compared in terms of revenue (click to enlarge)
If Documentum were to become independent, Pelz-Sharpe comments, then it would have a fresh incentive to fight hard, refresh the product and revive the brand. The IIG products are valid business applications, but "EMC is not a business application company; rather, it's a company that provides the infrastructure for applications to run on," we're told.
EMC should set IIG free so it can progress at its own pace, and use the released capital for something more profitable, the El Reg storage desk argues. ®