NASA on Friday announced a set of ten experiments designed to study the effects of spaceflight on the human body by comparing identical twins – one being up in space and the other down on Earth.
Back in November 2012, astronaut Scott Kelly – a veteran of three previous space voyages – was chosen to join Russian cosmonaut Mikahail Kornienko on a one-year mission to the International Space Station.
That extended stay in orbit is already expected to yield valuable insight into the effects of microgravity on humans, but Kelly has one special trait that makes him even more valuable to the space agency's bio-boffins: his identical twin brother, Mark.
"We realized this is a unique opportunity to perform a class of novel studies because we had one twin flying aboard the International Space Station and one twin on the ground," Craig Kundrot, deputy chief scientist of NASA's Human Research Program, said in a statement. "We can study two individuals who have the same genetics, but are in different environments for one year."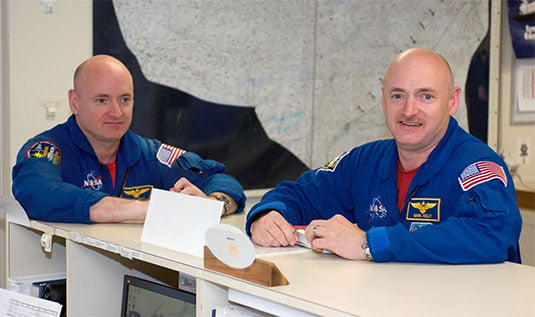 Identical twin astronauts Scott and Mark Kelly will help boffins study the effects of spaceflight on humans
For the mission, NASA scientists will employ the tools of what the space agency is calling "-omics," a set of cutting-edge disciplines in molecular biology that includes such fields as genomics, metabolomics, and proteomics.
By studying the twins at the fundamental level of human physiology – including DNA, RNA, and a host of other biomolecules – the boffins hope to "shed light between the nature vs. nurture aspect of the effects of spaceflight on the human body."
NASA picked its ten "investigations" from a pool of 40 proposals. The studies will examine such topics as the effects of spaceflight on perception, reasoning, decision making, and alertness; how living in space might affect gut flora in the human digestive system; and how such stressors as confinement, microgravity, and radiation might affect proteins and metabolites in the human body.
"Although the investigations conducted on the Kelly brothers are not expected to provide definitive data about the effects of spaceflight on individuals – because there are only two subjects for data collection – they do serve as a demonstration project for future research initiatives," NASA says.
The twins, aged 50, are expected to begin their joint mission in the spring of 2015. But although only Scott Kelly will be making the voyage into space, don't feel too bad for his brother Mark. An astronaut in his own right, Mark Kelly has participated in four previous Space Shuttle missions, making the pair the only siblings to have both traveled in space. ®