Windows 8.1 Update 1 spewed online a MONTH early – by Microsoft
Someone left the barn door unlocked in Redmond, it seems
Early leaks of upcoming builds of Windows are common enough, but the latest leak of code purporting to be Windows 8.1 Update 1 comes from an unusual source – Microsoft itself.
On Thursday, wily snoops discovered that the set of six updates that make up the forthcoming overhaul of Windows 8.1 can already be downloaded from Redmond's own servers, and some intrepid hackers even managed to get them via Windows Update.
This, despite the fact that the update has reportedly only just been released to manufacturing, and it wasn't expected to ship to customers before April, at the earliest.
The Windows Update method is tricky, as it involves tweaking a setting in the Registry. And while some online forum members report success using it, others say that Microsoft appears to have already blocked it, such that not all of the required updates appear in Windows Update any longer.
Fear not, though – there are apparently direct download links for all of the updates, and while you can't find them by searching Microsoft's site, helpful hackers have posted them all for you online.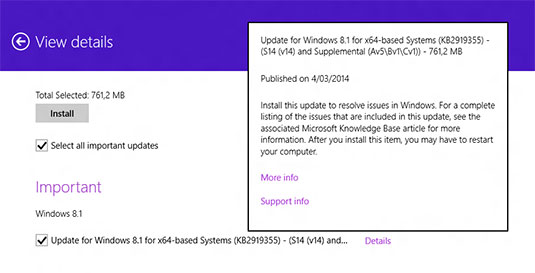 The largest of the leaked updates clocks in at 762MB, indicating it's a major feature release
Separate packages are available for 32-bit x86, x86-64, and ARM versions of Windows – yes, even the unloved Windows RT gets to share the Update 1 wealth – so make sure you only download the ones for the architecture you need, and don't try to mix and match.
Also, forum posters warn that it's essential to install all of the updates in the correct order, or the process will likely fail.
It is at this juncture that we at Vulture Annex in San Francisco would like to caution readers that performing this kind of unsanctioned brain surgery on Windows PCs can very easily have all kinds of undesirable results. If you don't feel 100 per cent confident that you know what you're doing, you're best advised to not try at all.
And if you do run into problems – or even if you don't – don't say The Reg told you to do it. In fact, here you go: Don't do this. It's a bad idea.
That said, if you absolutely can't restrain yourself, you can find complete instructions and direct links to the update packages in the order in which they should be installed here. (And if for some reason those links no longer work, presumably there's always BitTorrent – once the cat is out of the bag on something like this, we find it seldom crawls back in.)
When asked to comment on the matter, a Microsoft spokesman said only, "We look forward to sharing details about the update soon." ®