Intel and pals whip out 1.6Tbit/s cable: Come on baby, light my fibre
Something for your data center's bright sparks to think about
Intel is touting an optical cable capable of carrying 1.6Tbps through data centers: it'll give network builders blistering fast transfer speeds in the short term, and allow the chip giant to re-think how servers are built in the long-term.
New details on the MXC cables were announced on Monday. They are made with the help of Corning and US Conec, the three companies working as one to shake up how servers are chained together.
Each cable can cram in up to 64 fibers each running at 25Gbps, leading to a total aggregate bandwidth of 1.6Tbps – that's 800Gbps flowing in each direction. Each cable can be used reliably over a length of 300 metres.
The trio have also developed a specialized Integrated Beam Expander which deals with the prosaic yet fatal problem of dust blocking an optical signal. This beam expander offers ten times "better dust immunity," than what's possible with traditional fibre, Intel wrote in a slide presentation seen by El Reg. It apparently achieves this by increasing the cross-sectional area of each fibre core from 2,000 micrometres sq to 25,000 micrometres sq.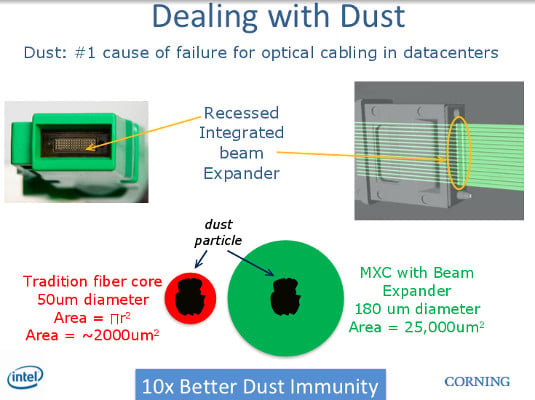 A slide showing the size of a piece of dust against the area of a fibre core
This makes the cable "much more robust to particles," explained Corning's veep of technology for optical connectivity solutions, Claudio Mazzali. "It's simpler to build, simpler to design."
Some initial adopters of the tech include Microsoft, Huawei, Facebook via the Open Compute Project, Arista, DSSD (Arista co-founder Andy Bechtolsheim's stealthy startup), and Fujitsu. These outfits are among those sampling the MXC cables right now; the cables will go into mass production by the third quarter of this year, we understand.
"We can't do a silicon photonics solution without the rest of the industry," explained Intel's director of silicon photonics, Dr Mario Paniccia, in a chat with El Reg.
To that end, Intel makes and sells the Intel Silicon Photonics tech, US Conec designs tools and sells the cable components, and Corning sells the ClearCurve LX Fiber and sells MXC cable after buying stuff from Conec.
The unveiling of MXC represents the phoenix-like rebirth of Intel's photonics efforts after the Thunderbolt debacle. Intel has been developing silicon photonics technology since 2001 and in the latter half of that decade had an exciting project named Light Peak which sought to hook up Intel's tech with other gear via an optical cable.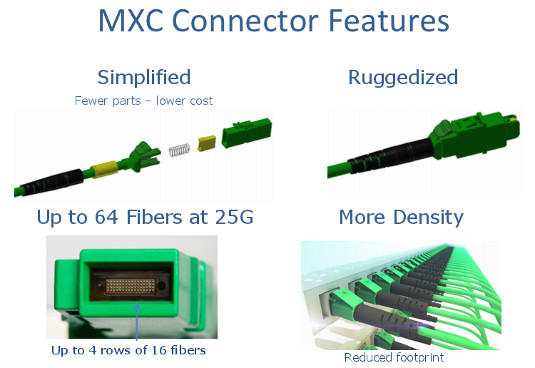 Got bandwidth?
Things didn't quite work out that way, as Apple – Intel's main go-to-market partner – wanted to use copper wire instead. Light Peak was pushed into the background, and Intel launched the high-speed interface Thunderbolt instead. Part of the reason Intel dropped the Light Peak branding is because Thunderbolt ran through ... copper.
Though extremely fast, this tech didn't fit the expectations of some of Intel's light-riding acolytes.
"Personally, as the optics guy, it was painful to see that," explained Paniccia, before noting that "it was the right decision at the time."
Now, light is bursting forth from Intel via MXC, and with it the company hopes to change how servers and storage and network components are arranged in the datacenter.
With MXC, Intel is confident you can "open up a whole new capability to drive new architectures in the data centers" by creating "disaggregated" racks, Paniccia explained.
Specifically, this means connecting everything in a server cabinet via Intel silicon photonics to create a new Rack Scale architecture that can let very large organizations – think Facebook or, at a pinch, Rackspace – design systems that work as a single entity over an area the size of a cabinet, rather than a 4U server.
For these systems to be built, MXC is necessary. "What is equivalent in tech existing today, you're going to have several cables, a multitude of connectors, and in some cases can't even go 300 meters," explained Mazzali.
Prices were not disclosed and depend on the length of cable and number of distinct connections. ®