Snowden: You can't trust SPOOKS with your DATA
Well you should know, Edward
Video Irony meters exploded when NSA whistleblower Edward Snowden, addressing the SXSW conference via video link today, urged programmers to encrypt their data to protect it from, er, prying eyes.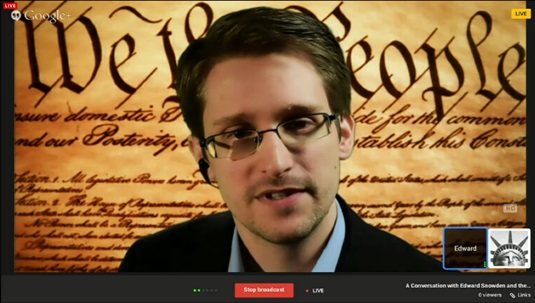 Snowden wraps himself in US constitutions
Snowden, a former CIA technician, addressed the audience in Austin, Texas, in a live broadcast using Google Hangouts, given the web giant's involvement with surveillance of the population. He claimed government spies were "setting fire to the future of the internet."
But the SXSW organizers joked that Snowden's video signal, presumably originating from somewhere in Russia, was being bounced off "seven different proxies" before hitting the Chocolate Factory's video chat software. In an hour-long session, Snowden discussed the state of surveillance, how it could be countered, and took questions from the public – including a query from Sir Tim Berners-Lee, who asked for the "privilege" of the first question.
"Your actions were profoundly in public interest. If you could design a system from scratch, an accountability system for governance over national security agencies, what would you do," the World Wide Web creator asked during the webcast's Q&A.
"It's clear that intelligence agencies are going to be using the internet to collect information from all of us, is there any way we can make oversight more accountable and improved?"
Snowden said there were technological measures that could be used – tools to encrypt communications and thwart tracking, for example – but the biggest issue was in layer eight of the network: in other words, the difficulty in getting ordinary people to use technology effectively and the politics preventing that from happening. Crypto and privacy systems are useless if humans won't, can't or are forbidden from using them properly.
As an example of the political problem, the whistleblower highlighted the fact that the US director of national intelligence James Clapper misled US Congress and suffered no rebuke. Snowden accused congressional overseers of failing to protect privacy and "cheerleading for the NSA."
What was needed, he said, was for independent public figures to have an oversight role in the intelligence community. They are needed to scrutinize spies and Congress, and make sure they are being honest. But internet users need to be responsible, too.
Gear up, it's encryption for all
On a most basic level, the only way forward to combat mass surveillance is for a corresponding mass encryption of data, Snowden said. The NSA has poured money into cracking algorithms and protocols, and has managed to subvert a few too, but the agency was thwarted by the sound mathematics at the heart of every good cipher; strong cryptography exists and should be relied upon.
Snowden said that strong crypto will hold until "concepts of mathematics and physics change on a fundamental level."
He advised netizens to ensure their hard drives and all their network connections are securely encrypted end to end so as to avoid mass surveillance. Doing so would force government eavesdroppers to focus on compromising particular targets rather than operate today's planet-wide dragnets, which effortlessly pull in pretty much everyone's unprotected internet traffic – whether or not they were suspected of any wrongdoing.
Ciphering everything would derail that approach by making it too costly or too much hassle for government snoopers.
Thus, while almost no one can stop the NSA actively hacking your PC and stealing your secret keys, he said, just adding basic encryption on a mass scale could vastly improve the situation for millions of spied-upon innocents. And that needs developers to step up to the plate.
"There's a technical response that needs to occur. It's the makers, it's the thinkers, it's the development community that can really craft the systems to make sure we're safe," Snowden told the conference. "This is a global issue. They are setting fire to the future of the internet and the people who are in this room now are the firefighters and we need you to help us fix this."
Developers can help enforce standards of privacy even though the US Congress hasn't got around to enforcing them, Snowden said. Software needs to pass a Glen Greenwald stupidity test, the ex-contractor added, referring to the careful coaching he had to give the journalist in how to communicate securely using PGP before he could leak a cache of top-secret documents about the US and UK's online surveillance programs.
"This is something people have to be able to access and really the way we interact with it now is not good," Snowden said.
"If you have to go to the command line people aren't going to use it. If you have to go three menus deep, people aren't going to use it. It has to be out there, has to happen automatically, and it has to happen seamlessly."