The BBC unveiled a much-needed front-end makeover for its sprawling iPlayer service today – while dodging the inevitable questions about subscriptions.
The corporation has updated iPlayer to take on commercial subscription rivals like Netflix, with shows available for longer – 30 days, subject to Trust approval. The details of the revamp are clarified here.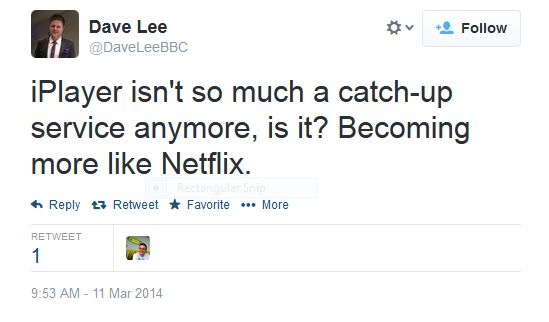 A very welcome new "Collections" category gathers together related material – which is currently buried and requires the viewer or listener to know the name of the broadcast, or when it was aired. The old "Factual" category has been replaced with more useful and self-explanatory groupings of Documentaries, Food, Arts, History, Science and Nature.
Currently the BBC lashes iPlayer tightly to its channel branding, but this is coming apart in the post-channel world. People care little upon which channel a programme originated.
The BBC has mooted iPlayer-only channels (such as Radio 1 videos) and yoof channel BBC3 is earmarked to go iPlayer-only in 2015. Little more was added today.
Absent today was any news on keeping the iPlayer back-end up to date – which is vital to the "user experience". Google's YouTube runs on its own private network, while Netflix has conceded the need for peering arrangements to ensure reliable throughput. iPlayer remains hit and miss, particularly in HD mode – and when former iPlayer guru Anthony Rose floated the idea of the BBC helping ISPs by building a UK CDN for iPlayer, his former boss quickly rubbished the idea.
Unique iPlayer-only content will be commissioned, the BBC confirmed, indicating the iPlayer's potential as a money-spinner. BBC3 will go iPlayer-only from 2015. The BBC also wants to retain its per-household licence fee (set to balloon as the number of UK households increases), and also yoke it to inflation.
It also wants to charge iPlayer-only viewers the full fee. You could call this a "Boris Plus" strategy: pro cake, pro eating the cake, and pro owning the cake shop. ®