Hands on Microsoft's Windows 8.1 Update 1 – with pain relief for those suffering from "customer satisfaction issues" – is widely expected to be released in early April.
It'll probably coincide with the Build developer conference starting on 2 April. This spring update has already gone to computer manufacturers to install on their new machines, and in the last few days it has leaked out on the internet – meaning anyone who wants it can pull it off the Microsoft servers without waiting.
I've been giving it a try. The "satisfaction issues" addressed are intended to make life easier for users of non-touchscreen PCs who rely on the mouse and keyboard to get around.
I prefer to use a Thinkpad X-series laptop when traveling and covering trade shows – such as Mobile World Congress 2014 in Barcelona last month – mainly due to the durability of the hardware.
For this, Linux-powered Ubuntu 10.x used to do me fine, it's unfussy and unobtrusive and uses the PC's resources well. That went out of the window when Ubuntu started smoking the Unity crack pipe. For longer documents, Word on Windows is simply a better tool than Word on any Mac. This all makes me the kind of "desktop and mouse user" Microsoft says it wants to make happier with 8.1 Update 1.
This is the Modern world...
Microsoft has implemented many excellent optimisations within Windows during the past five years, distancing the operating system's kernel from the version in Windows 7 and Vista. But despite this under-the-hood work, Windows 8.x has proved highly disruptive to users, IT managers and the entire PC industry, largely due to the touchscreen-friendly user interface changes Microsoft forced upon people in 2012.
There are a number of areas where Windows 8.x really caused problems. Familiar on-screen elements such as the pop-up Start Menu were removed. Secondly, software settings were scattered to the wind. Some disappeared altogether, some of the rest landed in a new Control Panel and others in apps; the older Control Panel remained. Another common "WTF!" provoker was printing: it seemed you couldn't easily print from most Metro Modern apps. WTF?
Fourthly, Windows 8 gave the user a shock when he or she flipped between traditional desktop applications and the elephantine new Modern apps and back again. This was a bit like reading a book in which random pages would be set in EXTRA LARGE TYPE – but you couldn't read ahead to see when they were coming.
Finally, the Modern apps seemed anything but modern: they represented a step-down in functionality. Nobody could argue that the Mail app was anything like as functional as Vista Mail.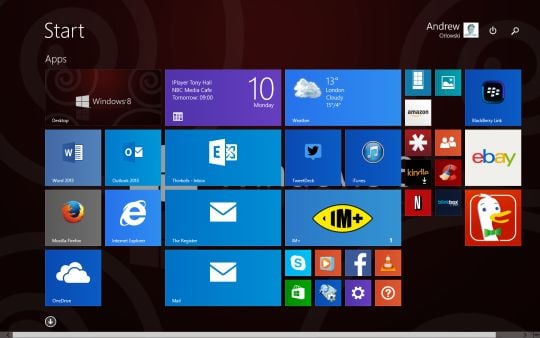 Windows 8.1 Update 1 ...
For Windows tablet users, this wasn't an issue – these users weren't context switching, and didn't need continuity. They still found settings hard to find. But it was the fourth - the limited Modern functionality – that was the killer. Since then Android scaled up well into low cost 'slabs, while iPad apps are far more sophisticated. This left no reason to buy a Windows tablet. It was desktop users who had to shoulder the pain.

It's the Windows 8.1 Spring Update, the Windows you know and love. Note the horizontal scroll bar, redundant as there's nothing to scroll.