A team of scientists at the University of Washington (UW) have created the world's thinnest LED that is both flexible and stackable, making a new class of handheld devices and light-driven processor chips feasible.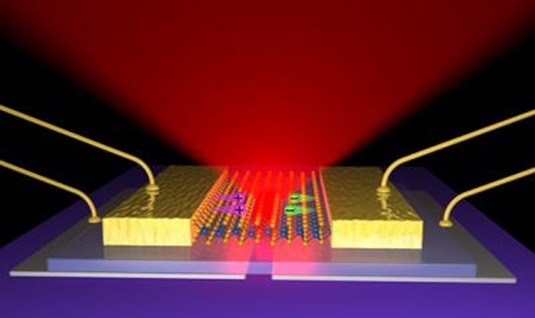 Team shine light on single layer LEDs ... a plane of the 2D lights
"These are 10,000 times smaller than the thickness of a human hair, yet the light they emit can be seen by standard measurement equipment," said team member Jason Ross.
"This is a huge leap of miniaturization of technology, and because it's a semiconductor, you can do almost everything with it that is possible with existing, three-dimensional silicon technologies."
The new LEDs measure just three atoms tall, technically making them 2D rather than 3D objects, and are made from a semiconductor called tungsten diselenide on a silicon oxide base. The brainiacs were able to harvest single sheets of the material using adhesive tape, a technique pioneered in graphene production.
Team leader Xiaodong Xu, a UW assistant professor in physics and materials science and engineering, and his graduate student Ross, have published the technique in the latest issue of Nature Nanotechnology. They report that the LEDs are small and powerful enough to be used in optical chips that use light instead of electricity to shuttle signals and data through a processor, or they could be stacked to make new thin and flexible displays.
"We are able to make the thinnest-possible LEDs, only three atoms thick yet mechanically strong. Such thin and foldable LEDs are critical for future portable and integrated electronic devices," Xu said. ®