Microsoft's battery-boosting Surface slab cover to ship soon
Now accepting preorders for Power Cover keyboard add-on
---
Six months after launching the second generation of its Surface tablets, Microsoft says it is finally ready to begin shipping an accessory that it says can extend the battery life of the fondleslabs by as much as 70 per cent.
The Surface Power Cover was announced during the Surface 2 launch but wasn't immediately available for sale, with Microsoft saying only that it would ship "in early 2014." That time now appears to be here.
The device is essentially a bulkier version of the original Type Cover – it's about 3mm thicker and weighs a tenth of a pound more – where the extra space under the keyboard is given over to an add-on battery that holds nearly as much juice as the Surface's built-in one.
The cover works by charging the slab's internal battery, rather than taking over when it goes dead, so you can unplug the cover after a while without worrying about losing power, then reattach it when your tablet needs a top-up.
Microsoft says the cover can extend the running time of the Surface Pro and Surface Pro 2 by as much as 60 per cent, while the ARM-powered Surface 2 can gain as much as a 70 per cent boost, based on video-playback tests.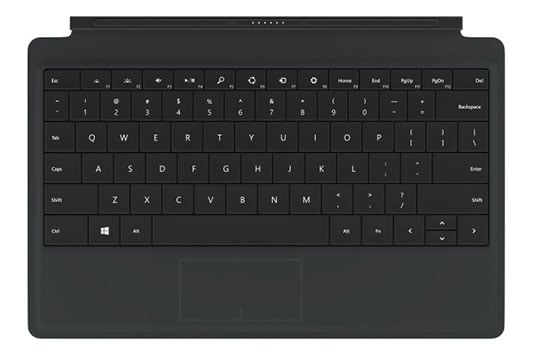 A Surface 2 can get up to 17 hours of running time with the Power Cover, according to Redmond's specs
Curiously, Redmond's original ARM-based tablet, the Surface RT, is not listed as being compatible with the Power Cover.
Keyboard-wise, the Power Cover isn't much to write home about. It includes the same shallow keys and undersized trackpad as the original Type Cover, which are passable but suffer in comparison to dedicated laptop keyboards and trackpads. And unlike the more recent Type Cover 2, the Power Cover lacks lighted keys and only comes in black.
Microsoft's online store began accepting preorders for the Surface Power Cover from customers in the US and Canada on Monday, with a list price of $199.99. The devices are expected to ship beginning on March 19.
Pricing and availability for the UK and other regions was not announced. ®