New Toshiba subsidiary OCZ has a new PCIe flash card, the Z-Drive 4500, complete with solid enterprise credentials - and none of the Ryan Petersen era hype.
That era produced the Z-Drive R5 with a notional 3 million IOPS and 12TB of capacity.
That product has disappeared from the OCZ roster and we now have the new Z-Drive 4500, compared to its R4 precursor.
Here's a quick run-down of Z-Drive 4500 features:
Toshiba 19nm MLC flash
800GB, 1.6TB and 3.2TB capacities
to 252,000 random 4K read IOPS but only 76,000 write IOPS
A maximum 2.9GB/sec sequential read bandwidth and 2.2GB/sec read bandwidth
PCIe gen 2 x8 and x16 interface in full and half height form factors
LSI SandForce SF0-2582 controller
TRIM and 128-bit AES support
2 million hours MTBF and 5-year warranty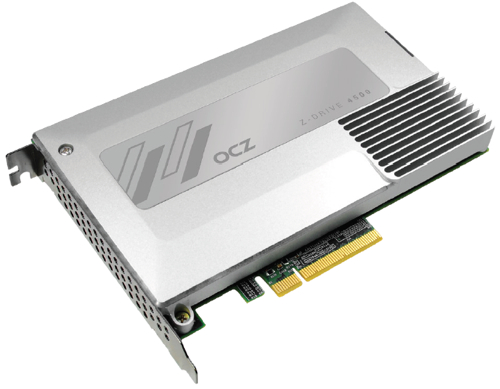 Toshiba OCZ Z-Drive 4500 PCIe flash card.
The R4 (R-series 800GB - 3.2TB capacity) did up to 410,000 random read and write IOPS, with up to 2.8GB/sec sequential read and write bandwidth. A CloudServ variant stored up to 16TB of data with up to 1.4 million IOPS and 6.4GB/sec bandwidth. The 4500 is marginally faster when sequentially streaming data but has lower IOPS numbers than the non-CloudServ R4.
But Toshiba/OCZ says the 4500 has consistent latency "regardless of data entropy" and a 5-year warranty. The endurance numbers are:
680TB written for 800GB product
1,300TB written for 1.6TB product
2,500TB written for 3.2TB product
It also has Windows Acceleration software, called WXL, which "performs statistical 'out-of-band' processing to intelligently cache the most frequently accessed data on Z-Drive 4500 flash. A cache warm-up and analysis mechanism is also featured enabling important and demanding analytical jobs to be loaded onto the Z-Drive 4500's flash cache in advance."
The product's Virtual Controller Architecture (VCA) "virtualises SSD devices into a massively parallel array of memory." The 4500 works with "OCZ's VXL Virtualisation Software distributing flash cache resources on-demand across virtual machines (VMs)."
We might assume that, with this product and its development possibilities, Toshiba has less need for a Violin Memory-developed PCIe product; just as well as Violin's new CEO is putting the Velocity card business up for sale, with a closing down of the business if it's not sold by the end of the quarter.
Toshiba/OCZ says the drive has a more robust architectural design than the previous OCZ Z-Drive R4. Read a pdf product brief here and access a product webpage here.
Toshiba/OCZ did not release pricing and availability information. We checked a few OCZ distributor sites like Ingram Micro and AVNET and didn't find the product listed. ®