Twittapocalypse! Twitter implodes, locked out tweeps around the world
Website falls over, mobile and desktop apps knackered in major outage
---
Updated Twitter has suffered a site-wide outage that stopped users from logging into their accounts and blocked access to all public profiles.
Beginning about 1100 PDT here at Vulture Annex in San Francisco, Reg hacks began noticing that they were logged out of their accounts and the service was not accepting their passwords.
No error message was given, but correct username/password combinations never got past the login screen. Mobile and desktop apps for the microblogging service were struggling to connect.
What's more, attempting to pull up a public Twitter feed produced only a message reading, "Something is technically wrong," along with an image of a cartoon robot with broken lobster claws.
Around 20 minutes later, the image was replaced with another cartoon explaining that the service was down for maintenance.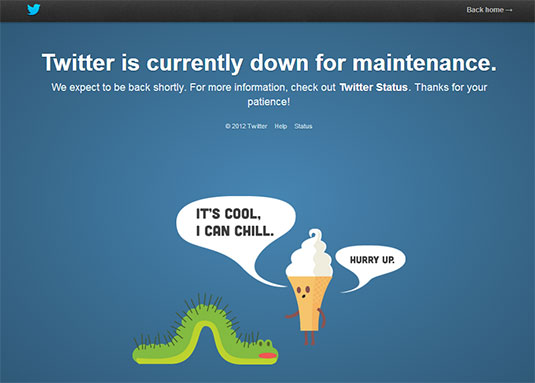 Keep cool ... Twitter says it's "looking into" the problem
Users around the US and the UK have confirmed that the outage appears to be far ranging. Around 30 minutes after the errors began, Twitter updated its official status page with a message saying, "Most users are experiencing issues accessing Twitter on web and mobile apps."
The previous post to the status blog was on March 2 and it described what Twitter said was a "brief service issue." That service interruption lasted about 24 minutes, although this one seems more serious.
The Reg has contacted Twitter for information on the matter, but we have been told only that "We're looking into it." We'll keep you posted as the situation develops. ®
Updated at 1317 PDT, 2017 GMT
Twitter appears now to have fully recovered, and it has updated its status page to include the following explanation for the downtime:
During a planned deploy in one of our core services, we experienced unexpected complications that made Twitter unavailable for many users starting at 11:01am. We rolled back the change as soon as we identified the issue and began a controlled recovery to ensure stability of other parts of the service. The site was fully recovered by 11:47am PDT. We apologize for the inconvenience.