Don't tell fans of big motors, but someone's just created an internal combustion engine of just five cubic microns, burning hydrogen and oxygen.
Getting an engine that small isn't easy. As the researchers, led by the Netherlands' University of Twente's Vitaly Svetovoy, explain in their Nature paper, even the mechanism by which they've managed to get combustion happening is debatable.
"It is not obvious that the reaction in nanobubbles and performance of the microscopic actuator are related. Nevertheless, we speculate that the gas combustion in the chamber happens via combustion in transitional nanobubbles," they write.
The search for a Liliputian V8 might sound silly, but the researchers say "a fast and strong actuator ... can be applied in microfluidics, micro/nano positioning, or in compact sound/ultrasound emitters".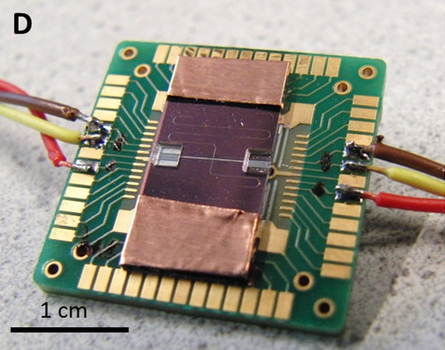 The microengine is somewhere in there — somewhere. Image: Nature
The 100 x 100 micron microengine is fabricated on silicon, with a 530 nm layer of silicon rich nitride (SiRN), and platinum electrodes. The SiRN layer was etched to create the actuator membrane, and the membrane was filled with Na2SO4 in deionized water.
Applying a voltage to the chamber produced hydrogen and oxygen by electrolysis, and as the paper puts it, "termination of the gases happens very fast due to spontaneous combustion." That reaction causes pressure of around 3.6 bar, enough to deflect the actuator by 1.4 microns.
Frequency of the motor is controlled by oscillating the voltage applied to the chamber. The researchers say the actuator was able to operate at frequencies from 5 kHz up to 20 kHz, and 100 kHz is possible, albeit at a lower pressure. ®
Similar topics