This article is more than 1 year old
Dying for an Ubuntu Linux phone? Here's how much it'll cost you
Canonical supremo Mark Shuttleworth spills beans on mobe price tags
Just because Ubuntu Mobile is based on Linux doesn't mean Ubuntu handsets will be really cheap, like phones running some other open-source mobile operating systems.
Speaking at the CeBIT conference in Hanover, Germany on Tuesday, Canonical founder Mark Shuttleworth said we should expect the first Ubuntu phones to be "mid-high end" devices, with price tags in the $200 to $400 (£120 to £240) range.
That's a much different approach than the one taken by Mozilla, which has been targeting emerging markets with open source Firefox OS phones that it hopes will soon cost as little as $25.
"We're going for the high end because we want people who are looking for a very sharp, beautiful experience," Shuttleworth said, "and because our ambition is to be selling the future PC – the future personal computing engine, essentially – and to support our partners in doing that."
Canonical's partners so far include Chinese smartphone upstart Meizu and Spanish e-reader and tablet maker BQ, which Shuttleworth announced as the first companies to commit to Ubuntu devices at the Mobile World Congress conference in February.
At CeBIT, Shuttleworth described Meizu as a "sharp-elbows, guerilla operator" and said BQ understands how to "put the right device into the right hands."
Both companies currently market bog-standard midlevel Android phones, which may give some hint of what their eventual Ubuntu devices will look like. Yet to hear Shuttleworth tell it, Canonical is aiming to build devices with which users will have an "emotional connection" – something he says only Apple has managed to do so far.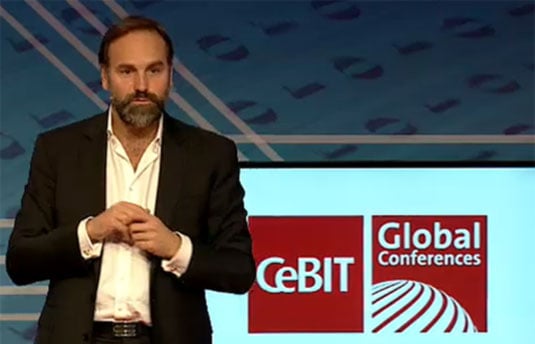 Canonical's Mark Shuttleworth thinks an Ubuntu phone could also be your PC and your TV, too
That's not to say Ubuntu Mobile will be a clone of iOS. According to Shuttleworth, one key audience Canonical is targeting is "people who don't really want to be that fussed about their phone," but who want to do basic things in a simple way.
Ubuntu's other audience, however, is developers. During his brief CeBIT keynote, Shuttleworth once again gave his pitch for mobile devices that can act as a single "brain" for multiple device form factors, so that a phone could alternately act like a tablet, a PC, or a TV, depending which peripherals you connect to it. Ubuntu, he said, would allow developers to target all of these form factors and even push their software into the cloud.
"There's not much point in doing something just like what other people have done," Shuttleworth said. "That's not interesting. There's usually a market for an also-ran, but we're about the third or fourth company to come out with a phone. What's interesting for me about what we're doing is this convergence story, because it's profoundly new."
Support for the convergence idea has been tepid at best, so far. By Shuttleworth's own admission, his Kickstarter campaign to raise funds for a prototype converged device called the Ubuntu Edge was a "spectacular failure." Yet at CeBIT he said multiple manufacturers had expressed interest in the concept, suggesting that maybe its time has simply not yet come.
"I think, at some level, everybody knows that platforms serve a purpose, and then that purpose is served in a better way by something else," Shuttleworth said. "And Android has really served its purpose, for sure, but perhaps – just perhaps – it's time for something new." ®