We all owe our EXISTENCE to lovely VOLCANOES, say boffins
Antarctica lava blasts kept Earth warm 'n' cozy during global cold snaps
---
Pic Research by the British Antarctic Survey has found that volcanos played a crucial role in preserving life when our world went through one of its periodic ice ages.
From time to time in Earth's history, the planet cools and an ice cover extends from the poles to cover large sections of the planet's surface. It's even hypothesized that about 650 million years ago the entire world was covered with an ice sheet – the Snowball Earth scenario.
Current scientific thinking is that as ice extends from the poles, plant and animal life migrate towards the equator. The British Antarctic Survey team's research, however, shows that – for Antarctica at least – volcanoes help keep life going while freezing conditions persist.
"Nearly 60 per cent of Antarctic invertebrate species are found nowhere else in the world but Antarctica," said Professor Peter Convey from the British Antarctic Survey.
"They have clearly not arrived on the continent recently, but must have been there for millions of years. How they survived past ice ages – the most recent of which ended less than 20,000 years ago – has long puzzled scientists."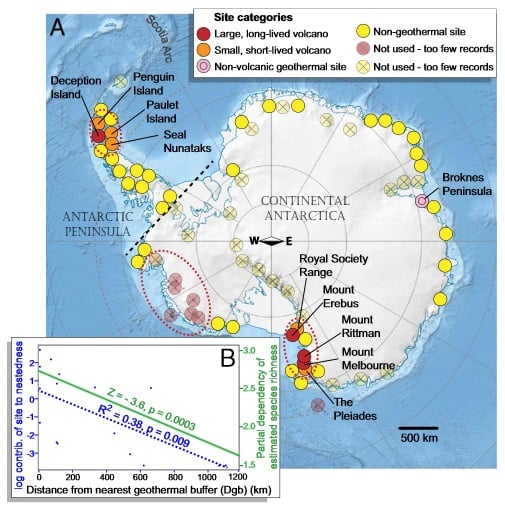 The team has compiled a survey of over 39,000 organisms on Antarctica, comprising 1,823 taxa, across the icy continent. They found that by far the most populated areas of the continent were around volcanoes that are either active today, or which have been active since the last glacial maximum 20,000 years ago.
"Our spatial modeling of Antarctic biodiversity indicates that some terrestrial groups likely survived throughout intense glacial cycles on ice-free land or in sub-ice caves associated with areas of geothermal activity, from which recolonization of the rest of the continent took place," the team said in a paper (PDF) published in the Proceedings of the National Academy of Sciences.
"These results," the paper notes, "provide unexpected insights into the responses of various species to past climate change and the importance of geothermal regions in promoting biodiversity. Furthermore, they indicate the likely locations of biodiversity 'hotspots' in Antarctica, suggesting a critical focus for future conservation efforts." ®