Spinning rust woes: NetApp bumps along bottom while EMC soars
Tracking the wrong way in Sunnyvale
IDC's quarterly disk storage factory shipments tracker shows NetApp losing ground for three quarters in a row while EMC powers on to storage glory. Dell is down too. What's up?
The impressive growth performance of NetApp has stopped according to IDC, whose tracker looks at external disk and total disk storage factory revenues based on figures from the vendors.
Although total external disk storage revenues rose 2.4 per cent to $6.9bn, compared to the year-ago quarter the total disk storage (internal + external) revenues rose 1.3 per cent to $8.8bn. This was up a pleasing 17.2 per cent from the third quarter of fiscal 2013; there has been a bounce-back.
The total capacity shipped was more than 10.2 exabytes, a 26.2 per cent annual rise.
Now, the individual vendors and external disk storage:
EMC led with a 32.9 per cent revenue share, up from 30.7 per cent a year ago. IBM had a 13 per cent share while NetApp was third with an 11.5 per cent share, then HP (9.6 per cent), Hitachi (8.1 per cent) and others (24.8 per cent).
Charting the results for this and previous quarters results in this graph: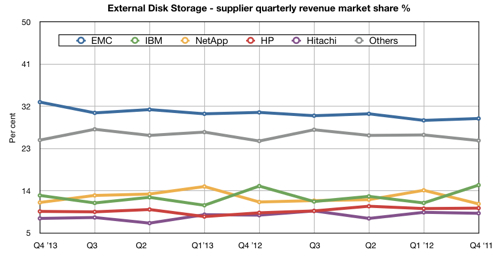 IDC Storage Tracker Q4 2013. Click chart for larger version.
Checking the chart shows us EMC's steady rise as top storage dog, and three quarters of decline from NetApp, which fell below IBM this quarter. NetApp has just refreshed its mid-range offering with the FAS8000 and it may be that the poor mid-range FAS3000 affected the company's showing relative to its competitors.
If we look at the total disk storage numbers then Dell plays a part. Here's the graph for these numbers: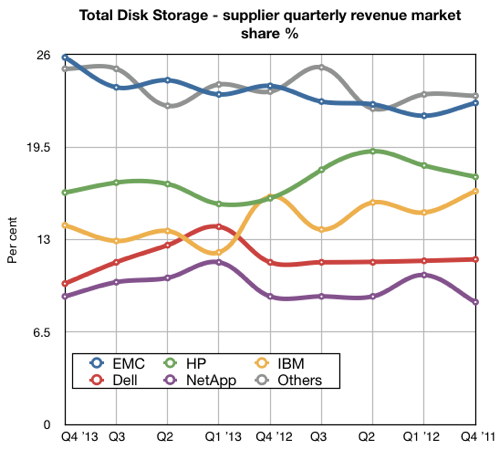 IDC Storage Tracker Q4 2013. Total disk storage chart.
IDC storage research director Eric Sheppard gives an overall view: "The disk storage systems market was able to break free of recent headwinds due to traditional year-end budget flushes, improved economic sentiment, and a strong desire to address long-standing storage infrastructure inefficiencies. Industry stakeholders able to capitalise the most on this demand were often those with recent product refreshes and strong go-to-market initiatives targeted at integrated infrastructure and storage optimisation."
Ergo NetApp didn't have "strong go-to-market initiatives targeted at integrated infrastructure and storage optimisation" or a recent product refresh in this period - but it did, several in fact:
The all-flash EF550 array was announced in November last year, IDC's 4th quarter
Other Engenio disk systems were announced or updated at the same time
Clustered Data ONTAP came onto the scene in September last year. There was a prior update in June
FAS6200s were updated in February
Whatever NetApp had, it wasn't enough.
We could be seeing an erosion of NetApp's share because of competition from hybrid flash/disk array startups; Nimble Storage (which NetApp has sued for staff poaching), Tegile and Tintri. All-flash array vendors with non-legacy disk O/S software (unlike NetApp's EF440/550 products, could also be hurting the Sunnyvale-based company, such as Pure Storage and Solidfire, Violin Memory and EMC with its XtremIO product.
There is a perception that NetApp is operating too much in its comfort zone as an incumbent in a large installed base, being defensive in its strategy rather than going after new storage opportunities in an energetic manner.
Is this perception true? Possibly – and the IDC numbers and NetApp's own recent results, with flat-lining revenues indicate that something is not quite right in Sunnyvale. The filer lion king is turning, just maybe, into a floppy old beast and needs to reinvigorate its carnivore approach to the storage business.
Come on Sunnyvale; get your act together. ®