Nvidia has completely revamped its notebook graphics line with a seven-GPU launch of the new GeForce 800M series, four bearing the GeForce GTX moniker and three sans GTX.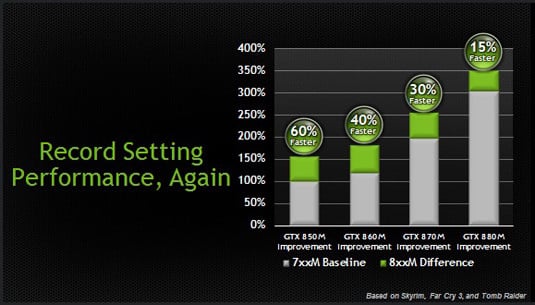 The further down the ladder of oomph, the greater the performance boost over the GeForce GTX 7xxM series
The company claims that the GeForce GTX line provides up to 60 per cent performance improvement over similarly numbered GeForce GTX 7xxM chippery, with comparisons based on testing when playing Skyrim, Far Cry 3, and Tomb Raider.
In addition to performance improvements, the new GPUs incorporate a number of other niceties, including one that a company blog post identifies as "the biggest": Battery Boost.
Battery saver might have been a more appropriate name for this technology, which is an automatic, transparent, driver-level tech that dynamically adjusts the power load on components of a gaming system – CPU, GPU, resolution, display brightness, frame rate, and the like — when a notebook is unplugged from the wall. Battery Boost keeps an eye on all these components, adjusting them to maintain a frame rate of 30 frames per second.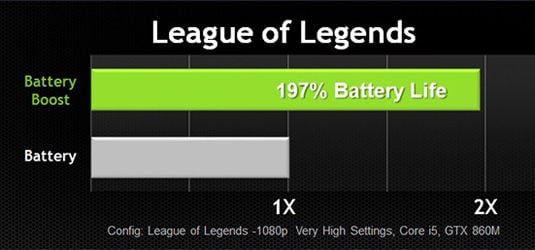 Nvidia claims massive battery-life gains using Battery Boost
You can take control of each parameter, should you prefer, or turn it off altogether. According to Cnet, an "expanded" version of Battery Boost will be available next month that will allow you to create profiles on a game-by-game basis. You could, for example, crank up the FPS (frames per second) for an FPS (first-person shooter), or dial them down for a turn-based game and dial up the display quality.
Another new feature – for notebooks – is GeForce ShadowPlay, which had previously been available only for desktop GPUs. ShadowPlay, well, shadows your play, recording in the background up to 20 minutes of gameplay so that after a particularly stunning display of your personal digital cunning, you can save your excellence as a 1080p video trophy.
As Nvidia explains, "Don't just brag about your gaming wins. Show the world with GeForce ShadowPlay."
The hardware H.264 encoder in the new GeForce GTX chips that enables ShadowPlay also brings Nvidia's GameStream tech down from the desktop into notebooks. GameStream, well, streams games over Wi-Fi from a PC to a GameStream-enabled device such as Nvidia's Shield.
Similar topics