We can see the intended shape of Violin as it emerges fresh and shining from its refit, but we've yet to hear it played. What will be the next move of Violin's brand new CEO, Kevin DeNuccio?
DeNuccio has been restringing Violin, cutting and restructuring the organisation's engineering and go-to-market, with more emphasis on channel partnerships, getting rid of the Velocity server flash cards and returning to its hardware array core. This is a retrenchment back to the core product, and marketing and selling it more efficiently – clearing the decks if you will. What about refreshing the existing products and new products?
How will Violin survive and prosper in a world of software-defined storage, converged systems and the cloud?
We sat down with Kevin DeNuccio in London to discuss the intense interest in what he intends to do.
He confirmed he'd re-invigorated top management ranks with new hires and internal promotions, condensed the engineering and sales organisations into fewer units, focused engineering on core product, focused sales on greater channel and partner involvement and development.
The Velocity PCIe flash card business was not core and a bank had been engaged to try and sell it, he said. If there was no sale then the business would be shut down at the end of the current quarter.
The product set needs some work too and the first development coming is a new software product.
Coming software product
Violin has been working for about a year on a new software product which will run on Violin hardware. This hardware and its associated software consists of:
scale-out, high-end high-performance 6000 series memory arrays running vMOS,
entry-level to mid-range 3000 series arrays,
2510 Memory Appliance; an inline caching SAN acceleration product, run by the Maestro Memory Suite of software,
Violin Symphony single-pane-of-glass management.
Here's how, in broad brush strokes, the array hardware fits the market: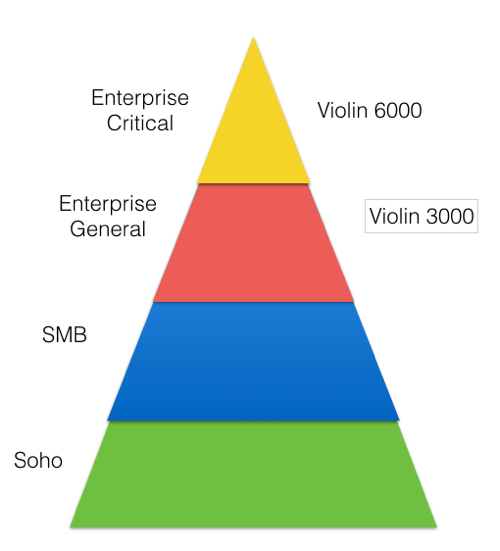 Violin market fit in broad brush strokes.
So, the new product will, as far as we can glean, run on the existing hardware, and:
will be based on some purchased SW assets,
will include open source SW,
will include internally developed SW,
will not be a FalconStor product, although Violin is still working with FalconStor,
will not be a Symantec Storage Foundation product, although that relationship will likewise continue.
The move will enlarge Violin's total addressable market (TAM) within its existing customer base.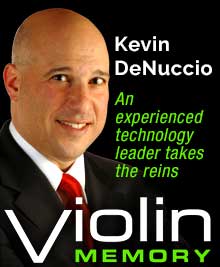 Violin Memory CEO Kevin DeNuccio
DeNuccio thinks Violin is pretty untouchable in the high-performance part of the enterprise market and is competes well on price in that space. To come downmarket and expand its TAM, Violin needs data management software and an absolute obsession with costs. Our interpretation here is that the cost of ownership of a Violin array in the second, non-critical tier of enterprise systems has to come down.
In the top tier, Violin arrays are used for database acceleration, customer-facing applications where acceleration speeds revenue earning, real-time analytics and VDI. DeNuccio points out that you can't dedupe in the database acceleration area.
He reckons that Violin could double in size in revenue terms by expanding out from these areas with the customers it already has, and cutting costs and coming down market. He said: "We'll probably be adding deduplication."
DeNuccio believes that you can't innovate unless you own your own operating system.
Steve Dalton, the head of engineering worked on Quantum's deduplication technology when he r-the SVP and general manager of Quantum's engineering for four years from December 2004. He then spent a couple of years at FalconStor as the GM/SVP of file storage engineering and almost three years in Intel and joined Violin in March last year.
DeNuccio wants to grow Violin again, after the current transition period of six months or so is over. He says the company and its employees are re-energised: "With a company of 300 to 400 people you can change the culture pretty quickly," he says.
He's said he's seen situations similar to that of Violin's current position. He said he was involved with a previous company, Redback Networks, which was burning $80m a quarter, had $200m in the bank and no ability to borrow. Two weeks after he started 9-11 happened, he said, adding: "No one thought we could do it." The company had its shortcomings fixed, trading steadily improved and it was later sold to Ericsson for $2.1bn, forming the basis of its IP strategy and routing products.
Personal impressions? A crisp, convincingly confident and persuasive CEO able to make a swift decision after careful thought and implement it effectively. Violin Memory is in good hands and could well grow as envisioned, if the market analysis and response to it is appropriate. So far that is exactly what it seems to be. ®