Column It has never been quite accurate to describe the social network App.net, founded by developer and entrepreneur Dalton Caldwell a little over a year ago, as simply a Twitter also-ran.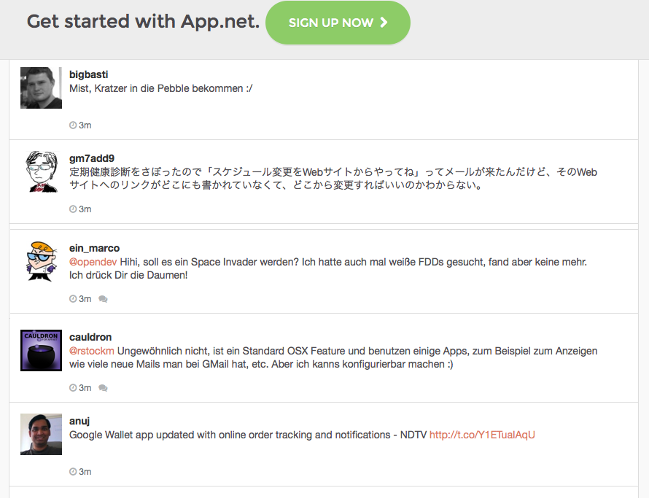 True, the similarities between the two are impossible to miss: App.net users have accounts prefixed by "@" from which they post (not tweet) messages of up to 256 (not 140) characters.
Posts can be reposted (not retweeted) by other people, @-replied to, or "starred" (not "favorited"). App.net accounts have followers, followees, and a Stream (not a Timeline). Tapbots' App.net client Netbot is fairly similar to the extremely popular Twitter client, Tweetbot, with different labels. But the similarities end there.
For one thing, ADN (as members refer to it) was intentionally designed as an extremely open platform. Third-party developers are not only allowed to build whatever apps they can dream up, they are encouraged to do so. ADN has backed this up with a Developer Incentive Programme, where developers are paid for their work by ADN itself based on the popularity of their apps – as determined by a periodic vote of members.
ADN accounts come with 10GB of file storage that can be used for anything at all, including photos. Among other things, this has led to the development of the photo-sharing app Favd, which is a lot like Instagram but without the ads or fineprint. (Favd allows users to post their photos to Instagram and Facebook as well.)
ADN also includes private chat features and Patter, a set of member-created discussion boards devoted to such subjects as podcasts, photography, cryptography and journalism. The highly open nature of ADN is such that it has spawned apps like Appneticus, which offers all kinds of peeks into the guts of the system via graphs and charts: the number of new users per day, the most active posters, the most popular client apps, and a slew of other measures.
Whatever the value of these features may be, a number of recent developments have the potential to widen the gap between App.net and Twitter much further. The first of these is Twitter's recent IPO. Whether due to a freedom-loving benevolence or sheer incompetence by the company's notoriously bumbling management, Twitter has traditionally been much less guilty of the ad-targeting and personal-data-mining that are now a plague on Facebook and in Google's suite of apps.
Pay-to-play and ad-free – but is that viable?
But the hand of Twitter's impatient investors has become increasingly visible over time, in everything from the company's promoted tweets to the Facebook-like, and widely unpopular, "media previews" introduced recently. With not merely dozens but thousands of investors, and the stakes much higher than before, the heretofore-unprofitable company will have to get serious once and for all about revenue and er, "monetisation," which will almost certainly mean more and more ads and less and less privacy.
From third-party developers' point of view, the creeping restrictions placed on Twitter's public API will surely get worse. The Twitter of 2015 could end up looking like the Twitter of 2011 surrounded by barbed-wire fences, security cameras, and TV screens blaring commercials around the clock.
In theory, App.net will never be subject to these kinds of pressure. From the beginning the network was designed around a freemium and explicitly ad-free model, with operations funded by paid memberships (currently $36/year) and fees for developer access to the API.
While pay-to-play has never really been tried with social networks (though the idea has been bandied about for years), Caldwell points out that Evernote and Dropbox, both of them wildly popular and successful, are freemium services.
While App.net started out as a paid-membership-only service — causing many reporters to inaccurately brand it a Twitter for wealthy snobs — a free membership tier, with limits on the numbers of follows and the amount of storage space, was introduced shortly after. Caldwell sees this as a definite benefit: As a business, he says, ADN's goal "is to get more [paying] members, but users should go ahead and have fun with the free tier if they want to."
As Evernote and Dropbox have shown, "it's advantageous to have a free tier," since free users will help spread the word, and there will always be power users and corporate users for whom the extra benefits of paid memberships are worth the price.