Bill Gates' Microsoft gigawealth giveaway charity has already conferred many benefits on a suffering humanity*: today we learn of yet another, as boffins reveal a magnificent waterless solar raygun portaloo which uses focused sunbeams to incinerate human excrement and turn it into a miracle charcoal style substance with many different uses.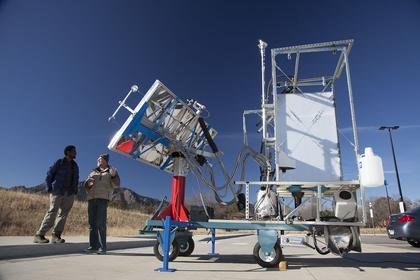 Don't worry about running out of charcoal for the barbie when you've got one of these
"It is a really cool research project and a great team," enthuses engineering student Elizabeth Travis, one of those who have contributed to the "Sol-Char" blaster-throne project. "Everyone is very creative, patient and supportive, and there is a lot of innovation. It is exciting to learn from all of the team members."
Birthed by the Bill and Melinda Gates charitable foundation's "Reinvent the Toilet Challenge", the Sol-Char eschews the water-guzzling methods employed in the lavatories favoured by wealthy Westerners. It's meant for users in hot equatorial areas where water is scarce and so, sadly, is proper sanitation in many cases.
Rather than a watery pan, then, a Sol-Char user deposits his or her offerings into a "reaction chamber". Then, eight mighty parabolic mirrors focus the rays of the tropical sun down onto a "postage stamp" sized collector where the blazing combined beams are fed into fibre optic cables. These then blast the ravening photons into the chamber, achieving power output of 700 watts - comparable to that of a microwave oven - and heating the offerings up to 600 degrees Fahrenheit.
This zapping treatment swiftly converts the chamber's smelly, unhealthy contents into a wholesome, well-nigh miraculous poo-based charcoal substance known as "biochar".
Biochar is splendid stuff, it seems.
"It has good water holding capacity and it can be used in agricultural areas to hold in nutrients and bring more stability to the soils," enthuses poo-blaster project chief Professor Karl Linden.
And if your crops are actually OK as they are, the handy bottomnal briquettes have many other uses. They can, for instance, be burned in one's barbeque - apparently they'll cook the prawns just as well as ordinary charcoal would. Or the miracle poo product can be returned to the soil in such a way as to remain stable, so functioning as a mechanism by which carbon is removed from the atmosphere.
Linden's solar blaster portaloo is now on its way to a grand unveiling in India, where it and no fewer than sixteen other Gates-funded high technology thrones from all around the world will be exhibited for consideration by "scientists, engineers and dignitaries".
The process of developing the solar blaster lavatory has involved a lot of hard work and, no doubt, a lot of testing.
"The great thing about the Gates Foundation is that they provide all of the teams with the resources they need" for this, says Linden.
You can read more on the amazing blaster-commode here, courtesy of the University of Colorado where Linden and his team are based. ®
*For instance the mosquito-blasting antimalaria laser cannon and the liquid gel stealth condom.
Similar topics
Narrower topics