This article is more than 1 year old
Panasonic slaps Freetime EPG on 2014 smart tellies
Never mind the 4K-ing content ... check out this Freesat favourite
Pics Freetime's neat, easy-to-navigate electronic programme guide (EPG) has never been a feature of standalone TVs, but at a joint event in London this week, its new partner Panasonic announced it will feature on 90 per cent of the panel maker's 2014 TV range.
If you're based in the UK and the name Freetime rings a bell, it's probably because it drives the EPG of numerous set top boxes which feed tellies with Freesat satellite services.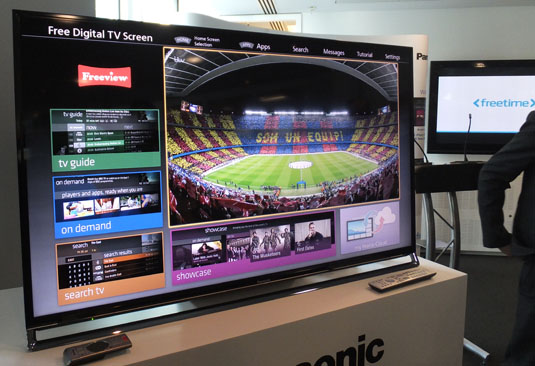 Ready for 2014: Panasonic AX-802 50-inch 4K TV with Freetime EPG
Panasonic's own EPG resources will remain, but the Freetime service has a number of enhancements and will be set as the default TV guide on the company's UK Viera tellies. Another significant first is that Freetime will support terrestrial free-to-air programming as well as satellite content.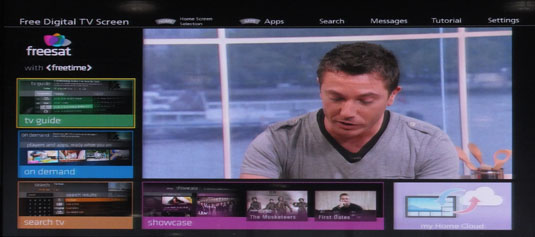 Freetime on Freesat home screen guide
OK, so we're only talking about an EPG system here – albeit with the capacity to roll back over seven days of programming, thus enabling simple access to on-demand catch-up services – but having this level of coherence across Freesat and Freeview is certainly very appealing.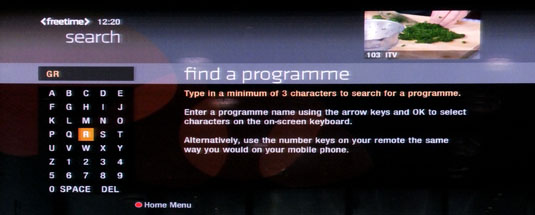 Freetime Search function
Content may be king, but accessing it from the myriad of menus that free-to-view customers often need to navigate can be frustrating. Panasonic must have hopes that the Freetime Home page will appeal to folks buying new tellies. From here you'll see Search functionality, recommended upcoming programmes in Showcase, as well as integration with the major On Demand services – including BBC iPlayer, ITV Player, 4oD and Demand 5.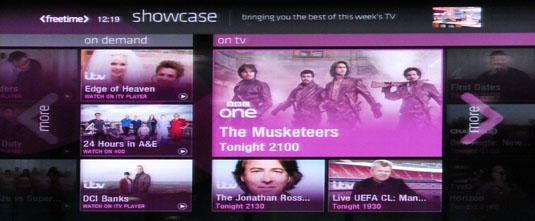 Freetime content Showcase mode
YouTube fans won't find this option on the Freetime screen, but it features among the additional smart TV apps on the new Viera sets – which will also have the new BBC iPlayer on board.
At the launch event, Panasonic unveiled the AX-802: available as a 50-, 58- or 65-incher, this 4K set is the first model to implement Freetime EPG and features tuners for both satellite and terrestrial services. The available sizes for this model is rather telling, though.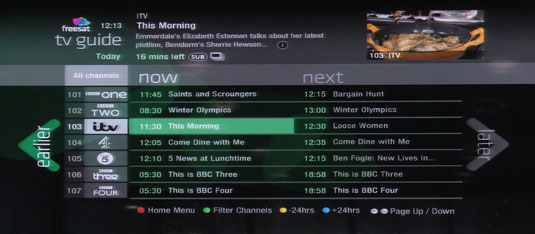 Freetime: Now and Next
Craig Cunningham, Panasonic's TV product manager, spoke about how size matters after first reeling off the miserable stats for UK TV sales in recent years
"The UK TV market over the last few years has been in decline. Back in 2011 we had a market of almost 8.6 million units, and in 2013, the market landed on just over 6 million units, and we're predicting further decline in 2014 down to 5.6 million units."
So it's not looking too rosy in 2014 either... but Panasonic is bullish about this decline. Digging deeper into the stats, it believes its onto a winner with these panel games.

Panasonic UK TV market figures and projections
"Honestly, no, we're not really that worried about it," said Cunningham. "If you look at the 50-inch-plus market, it's significantly growing. Back in 2011, that market was 400,000 pieces. In 2014 we're expecting that market to be 600,000 pieces. If you take that into context of Panasonic's market share: [with] total [number of] TVs we're around 11 per cent of the market, but in [the] 50-inch-plus [bracket] we're much closer to 30 per cent of the market. So almost one in three of 50-inch plus TVs that are purchased are Panasonic. It's great news for us because the market's moving in our direction."
Let's hope the optimism lasts because there's no differentiation between HD and UHD TVs in these figures or the new wave of curved panels either – for now Panny stays flat but shows off bendy screen samples at trade shows so everybody knows it can do it.
Curve craze aside, offloading affordable 4K TVs to early adopters is one thing, but providing the content for these high-resolutions panels seems to be another matter entirely. On that issue Cunningham dodged the subject by focusing on interfacing and compatibility for the format rather than any 4K content.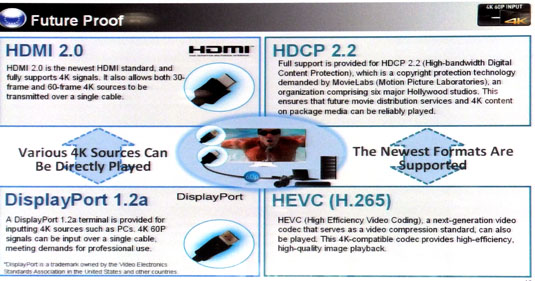 Panasonic's 2014 UHD TV range has all the interfacing, but no 4K content – click for a larger image
As the press milled around the new AX-802 TV, Panasonic product manager Kevin Messenger pointed out the upscaled Freetime EPG that was on show, with nothing confirmed from any of the major broadcasters regarding 4K content and 2015 mentioned as a conveniently distant possibility.
He suggested gamers would be among the first to benefit. And most gamers are going to splash out £2,500 for a 4K TV, right? Lest we forget video professionals too, presumably making home movies with their new budget 4K camcorders.
So why buy a set now if there is no content? Messenger's response was a bit of mixed message, along the lines of: Buy now, so you'll be ready for the new 4K services.
Er, but there are no 4K services… This was countered by with the remark that technology moves so fast that you won't have long to wait.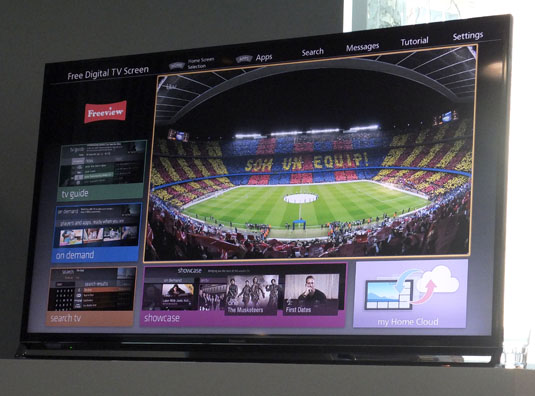 4K TV: buy now and avoid the content
So why buy now if technology moves so fast? Surely there will be something newer and better when the time comes that 4K presumably goes mainstream? By the way, where is that 3D content we were promised from all the major broadcasters a few years back?
Admittedly, we can take those arguments to all the telly manufacturers of recent years, but for now, Panasonic will sell you a 4K TV with a new Freetime EPG that looks great when it's upscaled. Stay tuned for more. ®