The visually impaired will be able to use their smartphones to see for them, using an ultrasonic case Samsung has made for its low-end Galaxy Core Advance handset.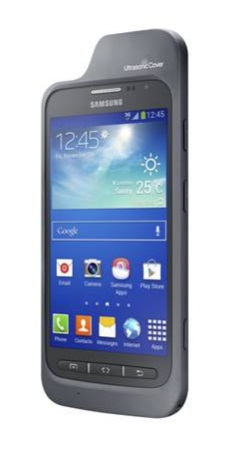 The machine that goes ping
The Samsung Ultrasonic Cover pings a signal much like a bat and uses the reflection to identify objects within two metres of the handset. It can then alert the user if there's something in their way, either by vibrating or by issuing a warning sound.
Also on offer for those with sight problems is an Optical Scan Stand. The stand holds the handset and documents are passed underneath it, whereupon the camera in the handset performs optical character recognition on any text and converts it to speech for the user.
The third tool is something Samsung calls Voice labels. These are stickers attached to household objects that communicate with the handset using near-field communications (NFC) and trigger the phone to play a short message about that object when within range. Samsung sees these as being used to give instructions on an item's use to the visually impaired.
Sadly, these innovative aids are only available for the Galaxy Core Advance, not for Samsung's more popular high-end smartphones, particularly those with larger screens. However, Samsung has said it plans to bring out similar accessories for its wider range at a later date. ®