Peak Microsoft According to two different web-analytics groups – NetMarketShare and StatCounter – Windows' market share has dropped to below 90 per cent for the first time since the mid 1990s and the juggernaut that was Windows 95.
As SeekingAlpha reports, NetMarketShare calculates that Windows' market share – that's all versions of Windows from XP onward for laptops and desktops – dipped to 89.96 per cent this month. StatCounter is only slightly more pessimistic, reporting an 89.22 per cent share for the same operating systems and time period.
Apple' OS X remains far behind, but has topped 8 per cent for the first time in memory. NetMarketShare places its laptop and desktop market share at 8.16 per cent; StatCounter says that OS X has an 8.34 market share.
The Mac's figures are nothing that Microsoft CEO Satya Nadella will lose sleep over any time soon, but the trend lines for both Windows and OS X are certainly something that should catch his attention. Just six years ago, for example, the Mac's market share was a mere 3.75 per cent, and as SeekingAlpha points out, at the turn of the millenium it was even lower: 2.84 per cent.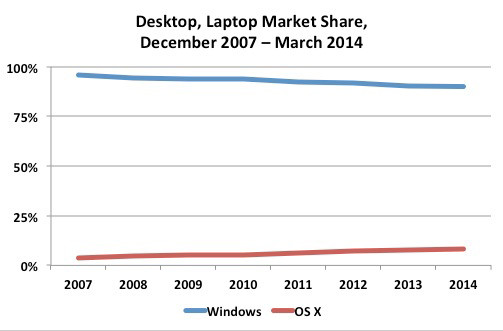 At this rate, the two OS shares should converge just about when your grandkids retire
(data: NetMarketShare)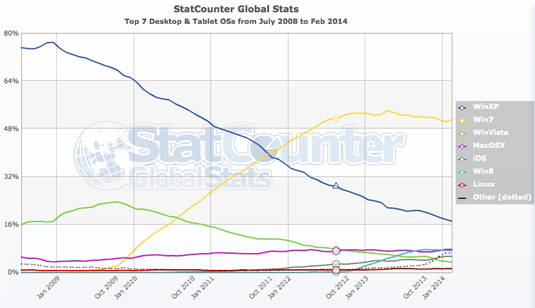 That Windows Vista release certainly was a rousing success, eh? (click to enlarge)
Before you ask, according to StatCounter's figures, Linux's market share stood at 0.62 per cent as 2008 came to a close, and has risen to 1.76 per cent as of this month.
What all these numbers and their resultant trend lines portend, of course, is opinion and speculation – so permit a bit from your humble Reg reporter, then you can chime in by clicking on the Comments button below.
While most companies would kill for a market share hovering around 90 per cent, no market domination is eternal – especially in a market that's changing as rapidly as the PC market is today. While Microsoft will likely continue to rule both the desktop and laptop markets for the foreseeable future, the former is sclerotic and the latter is being attacked by tablets – and even by the surprising (to us, at least) popularity of Chromebooks.
As the StatCounter stats show, the market shares of both Windows 8 and Windows 7 have leveled off. Microsoft is not forthcoming about the sales of its Surface 2 and Surface 2 Pro, but even a cursory stroll through the Starbucks of the world doesn't exactly demonstrate the they're becoming the laptop/tablet of choice of the next generation.
There's far more to Microsoft than Windows, of course. Microsoft the company is more than holding its own in other areas such as its server software, online services and gaming, and even its business (Office) offerings.
On the desktop and laptop operating system side, however, and in the skyrocketing mobile device market, Microsoft is a giant with a giant problem. Unless it manages to reinvent its approach to those markets soon, it may very well slip into — here comes a $20 word – caducity, which my dictionary defines as "the infirmity of old age; frailty or a transitory nature."
That is, of course, not an observation that required a tremendous amount of savvy. Pulling Windows out of its long, slow slide into senility, however, will.
Best of luck, Mr. Nadella. ®
Similar topics