What could you do with 264 Xeon E5-4610 cores running at 2,5GHz and 6TB of RAM?
As it happens, you can now try to find out: Perth's supercomputer facility iVEC has just shouted-out to anyone who likes the idea of taking its new, large-memory computer system Zythos for a spin.
Zythos is an SGI UV2000. The machine is built from 24 blades, 20 of which pack two hex-core Intel Sandy Bridge processors and 128 GB RAM. The other four each contain a single hex-core Intel processor, an NVIDIA Kepler K20 GPU, and 256 GB RAM.
All up you get 264 cores and 6TB of RAM.
iVEC says "would like to invite applications from the research community to use ... Zythos ... for general use from the beginning of April, for projects in the areas of data analysis, scientific visualisation and supercomputing that can effectively exploit the novel architecture of the UV2000."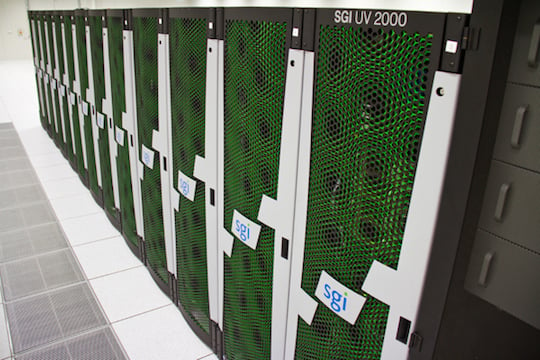 Zythos, in all its many-cored splendour
The iVEC portal will soon offer details on just what you need to do to get some Zythos time.
For now, let's dream: what would YOU do with 264 Intel Sandy Bridge Cores and 6TB of RAM. Get thee to the forums to share your ideas. ®