This article is more than 1 year old
Previously stable Greenland glaciers now rushing to the sea
Time to revise those projections of sea-level rise – upward
A trio of glaciers in a vast region of northeastern Greenland previously thought to be stable are thinning and moving into the sea, forcing climate scientists to reevaluate their projections of sea-level rise upward.
"We're seeing an acceleration of ice loss," study coauthor Michael Bevis of Ohio State University told USA Today. "Now, there's more ice leaving than snow arriving."
Bevis and his team's research was published on Sunday in Nature Climate Change in a paper titled "Sustained mass loss of the northeast Greenland ice sheet triggered by regional warming."
Specifically, the paper reports that "the northeast Greenland ice stream, which extends more than 600 km into the interior of the ice sheet, is now undergoing sustained dynamic thinning, linked to regional warming, after more than a quarter of a century of stability."
This thinning and accelerating flow of the northeastern Greenland ice stream (NEGIS) "surprised everyone," Bevis said, seeing as how NEGIS had been relatively stable for a quarter century before "rapid dynamic thinning start[ed] some time between 2003 and 2006," as the paper reports, as ocean-surface ice melted and no longer blocked their advance.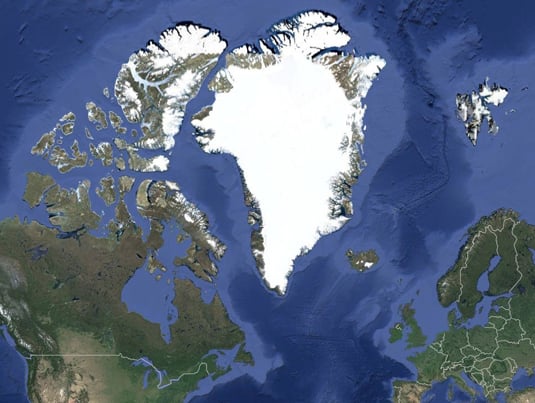 Northeastern Greenland is so cold that its ice stream was thought to have been stable – until now
The team determined the thinning by conducting a wide range of different observations, including satellite and aircraft sensor readings and photographs, and bedrock-mounted GPS units that detect deformations in that bedrock due to changes in the weight of the ice sheet.
Taken together, the data points to the same conclusion: NEGIS is on the move, and its ice is finding its way into the sea, contributing to a sea-level rise. What's more, the loss of seaborne ice blocking the glaciers is allowing comparatively "warm subsurface ocean water" to slip between the glaciers and bedrock, contributing to "further instability near the grounding line."
NEGIS and its three outlet glaciers – the Nioghalvfjerdsfjorden Glacier (also called 79 North), Zachariae Isstrøm, and Storstrømmen Glacier – are not to be confused with the Jakobshavn Isbræ (Danish for "glacier") in western Greenland, which as The Reg reported last month, is already known to be accelerating and increasing its contribution to sea-level rise.
Referring to NEGIS, the paper notes that "this sector of the Greenland ice sheet is of particular interest, because the drainage basin area covers 16 per cent of the ice sheet (twice that of Jakobshavn Isbræ)." It's also of particular interest because since NEGIS and its three-outlet glaciers had been thought to be stable, their contribution to sea-level rise has not been factored into existing models, which will now need to be revised – upward.
The Jakobshavn Isbræ remains the badass when it comes to glacial melt into the ocean, contributing approximately 30 metric gigatons of water into the sea each year, on average. That said, NEGIS' Zachariae Isstrøm is already contributing around 10 metric gigatons per year now – up from nothing just a few years back – and one of the paper's coauthors, Shfaqat Khan of the Technical University of Denmark, told E&E that ice loss in northeastern Greenland is now 15 to 20 metric gigatons and increasing.
"This is the first time anyone has ever observed a sudden acceleration of ice loss in the downhill (outlet) portions of a really long ice stream," Ohio States' Bevis told Mashable. "So, we are in terra incognito."
That said, the paper's conclusion is sobering. "As recent model projections suggest, ocean warming around Greenland may reach almost double the global mean by 2100 and the recent assessment report of snow, water, ice and permafrost in the Arctic projects the largest and most pronounced air temperature increase over northeast Greenland, increasing the risk of continued mass loss from this sector of Greenland."
About those IPCC sea-level projections? Apparently climate scientists now need to tweak their models. ®