Virtual reality? Two can play THAT GAME, says Sony: New headset revealed for the PS4
Project Morpheus to take on Oculus Rift ... eventually
---
Pics Sony has revealed Project Morpheus, its virtual-reality headset for the PlayStation 4.
Project Morpheus was announced in San Francisco at the Game Developers Conference, and will offer a five-inch screen and resolution of 1920x1080 for each eye.
Details are scanty for now, with Sony declining to offer dates when the device might go on sale and saying only that it "will continue development of Morpheus looking towards a future commercial launch."
If it gets there, Sony says "inertial sensors built into the head mount unit and PlayStation Camera accurately track head orientation and movement so as the player's head rotates, the image of the virtual world rotates naturally and intuitively in real-time." The PS Move controller gets a role too, as if players are holding he device "Morpheus will reproduce the player's hands and sword within the game so the player feels like they are physically fighting off enemies with their sword in the virtual world."
Perennial financial-casualty-ward casualty Sony is also promising immersive audio "such as footsteps climbing up stairs below them, or engine noises of helicopters flying overhead" – plus sounds that "change in real-time depending on … head orientation".
A Morpheus SDK is in the works "and will become available when ready."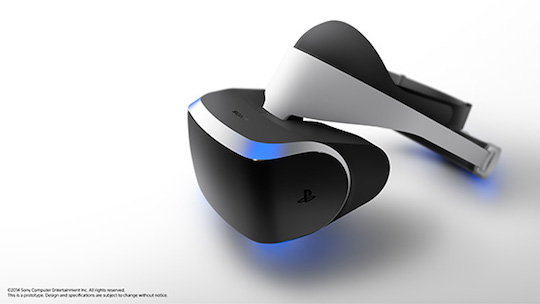 Sony's Morpheus virtual reality headset
Demos of some Morpheus-enabled games are available on the show floor.
Sony says the moniker Morpheus was picked to invoke both the mythical God of dreams and The Matrix character of the same name. That "Morpheus" also rhymes with Oculus (as in the VR startup game-land darling Oculus VR) is probably a coincidence. ®
Similar topics
Narrower topics