A Gartner report looking at high-end enterprise storage arrays published this month has concluded that because of SSDs, an array's performance is no longer a differentiator in its own right.
"Critical Capabilities for General-Purpose, High-End Storage Array" was published on 7 March. It put HDS kit out front for "Best Overall", while VMax kit got an "outstanding" nod.
The analysts looked at 12 products and how they suited five use-cases. The summarised key findings are:
Because of SSDs, array performance is no longer a differentiator in its own right
Components and packaging don't contribute much to product differentiation, which is based more on architecture, software functions, data flows and microcode quality
Clustered, scale-out and federated architectures and products can achieve similar levels of scale, performance, reliability, serviceability and as traditional scale-up, high-end (monolithic) arrays
Performance, reliability, scalability and vendor reputation are more important criteria than security, migration and conversion costs between different vendors
The analyst makes the point that "Product advantages are usually short-lived and temporary in nature."
There are five use cases:
consolidation,
OLTP,
server virtualisation and VDI,
analytics, and
cloud
Lastly there is also an overall rating, giving six measures for the 12 products: Within each of these six categories there percentage contributions for manageability, RAS, performance, snapshot and replication, scalability, ecosystem, multi-tenancy and security, and storage efficiency.
DDN SFA12K
EMC VMAX
Fujitsu ETERNUS DX8000 S2
HDS HUS VM
HDS VSP
HP 3PAR StoreServ 10000
HP P9000 (OEM'd Hitachi VSP)
Huawei OceanStor 18000
IBM DS8870
IBM XIV
NetApp FAS/V6200
Oracle Pillar Axiom 600.
Yes, Oracle's Pillar Axiom 600 is included, Gartner rating it powerful and functional enough to be in the list, but there is no mention of Dell's Compellent product.
Gartner's analysts produced an overall chart for each product based on a score for each critical capability. We reproduced a summary of this using a ruler and photocopy of the report and not the individual product critical capability percentages - that would have been far too much work.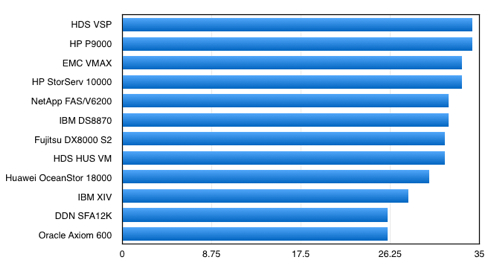 Gartner high-end enterprise array overall rating chart.
The analyst provides an overall qualitative product viability assessment:
DDN SFA12K - Excellent
EMC VMAX - Outstanding
Fujitsu ETERNUS DX8000 S2 - Excellent
HDS HUS VM - Excellent
HDS VSP - Excellent
HP 3PAR StoreServ 10000 - Excellent
HP P9000 (OEM'd Hitachi VSP) - Good
Huawei OceanStor 18000 - Excellent
IBM DS8870 - Good
IBM XIV -0 Excellent
NetApp FAS/V6200 - Excellent
Oracle Pillar Axiom 600 Good.
This is Gartner's assessment of a vendor's strategy and its ability to enhance and support a product over its expected lifecycle – there was a pat on the back for EMC here.
Then the analyst provides ratings for the overall use case and the five individual uses cases. In each category HDS' VSP was top with the HP P9000 having an identical score. The measured differences between the 12 products was slight, with a fit to use case score running from 0 (worst) to 5 (best).
Typically the best arrays would score around 4.2 and the worst 3.5, not a great difference at all. Individual products varied position a little in the upper, middle and lower order rankings but the top two positions were settled; HDS VSP and Hitachi OEM'd VSP rules okay.
Here's the analytics use case ranking as an example:
HDS VSP
HP P9000 (OEM'd Hitachi VSP)
HP 3PAR StoreServ 10000
IBM DS8870
EMC VMAX
Fujitsu ETERNUS DX8000 S2
NetApp FAS/V6200
HDS HUS VM
Huawei OceanStor 18000
IBM XIV
DDN SFA12K
Oracle Pillar Axiom 600.
For more details, Gartner's research note, ref G00248908, is on sale. We scored our copy came from, you won't be surprised to hear, HDS. ®
Bootnote: The scuttlebutt is that HDS has a new, refreshed VSP coming out in a few months. A scale-out filer type system has also been rumoured to be under development. HDS isn't saying anything about such things.