GDC Intel has released a few more details about the new processors it announced at this week's Game Developers Conference, and which The Reg told you about earlier today, plus provided a "sneak peek" at a 14-nanometer fifth-generation "Broadwell"–based desktop processor with integrated graphics.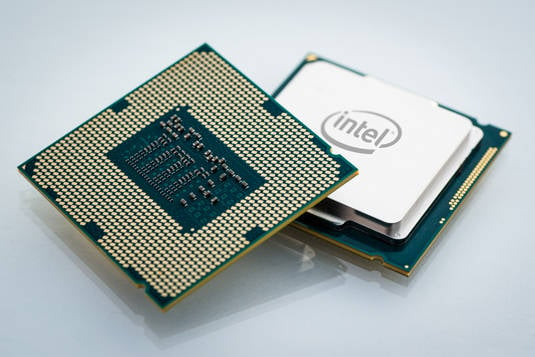 'Devil's Canyon' stuffs Haswell cores into a new package ripe for over clocking (click to enlarge)
Seeing as how the announcements were made at GDC, it was understandable that Intel VP and general manager of the desktop clients group Lisa Graff, speaking to a group of reporters on Wednesday evening, exuded the most enthusiasm about a chip specifically designed for overclockers, an enthusiast-targeted processor code-named "Devil's Canyon".
"This is the one I'm most excited about," Graff said. "At the heart of our unlocked processor business, this is where we put the most new investment."
Devil's Canyon, which will be released in the middle of this year and come in both i5 and i7 versions, will be based on 4th-Generation Haswell cores, but will add a few changes aimed directly at overclockers. "We typically do not do this," Graff said. "When we come out with a processor like Haswell, etcetera, then we don't make any substantial changes to it – we just bump the frequency a little bit – until we come out with the next one."
A few months ago, however, Graff and her team came to the conclusion that they were "frustrating," as she put it, the overclocker customer base, which she characterized as some of Intel's "most loyal customers."
"We were not bringing them enough performance," she said.
To provide enthusiasts with more performance without making them wait for the next processor generation, Graff said that a small "tiger team" that included "some of the most senior engineering folks at Intel" was organized, and in "six to seven months" they came up with Devil's Canyon.
The new overclocker-targeted chip is in a new package, uses a new thermal interface material – about which Graff declined to provide more information when asked – and will be supported by Intel's soon-to-be-released 9-Series chipset. Although she declined to provide power requirements for the new chip, she did say that "you're not going to have to change power supplies."
"This is going to bring a really nice bump in performance," Graff promised, "just base performance as well as overclocking." Devil's Canyon will be available mid-year; the first 9-Series chipsets, by the way, have been reported to appear in mid-May.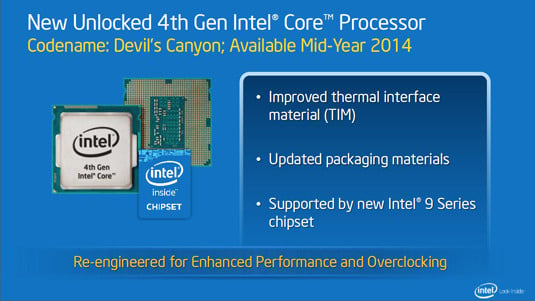 'Devil's Canyon' – design to end the frustration of Chipzilla's 'most loyal customers'
Graff also introduced Intel's next 4th Generation Extreme Edition processor, scheduled for release in the second half of this year. "We've had six-core for a little while, quad-core before that – so what's next?" Not too hard to guess, eh?
"For the first time we will bring eight cores to our Extreme Edition," she said. The new Extreme Edition processor will also support DDR4 memory. "You'll get to boost the entire platform," Graff said. "More cores, higher-bandwidth memory, and we'll have the X99 chipset to support that."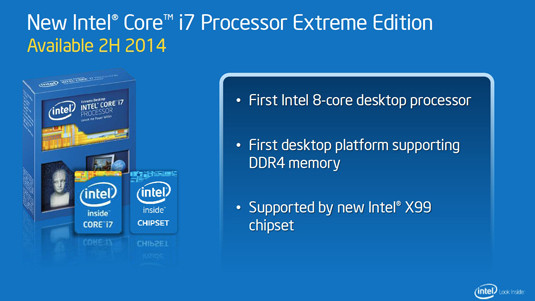 What comes after six? Why, eight, of course
Intel's entry-level line also got some love from Graff with her announcement of an unlocked Pentium. "We're going to do an anniversary special edition of the Pentium," she said – and although she admitted that the Pentium already turned 20 last year, that didn't stop Intel's marketing team from slapping a "Celebrating 20 Years of the Pentium Brand" on the sales collateral for the new chip.
The unlocked, dual-core Pentium Anniversary Edition will be supported by Intel's 8-Series and 9-Series chipsets, and like Devil's Canyon will be available in the middle of this year.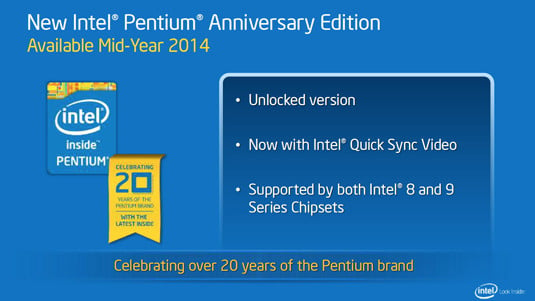 How many enthusiasts will get enthusiastic about over clocking a Pentium?
Graff also announced that Intel's Iris Pro integrated graphics, previously available only in laptop parts, will move to the desktop when Intel moves to its 5th Generation 14nm "Broadwell" processors – specifically in an unlocked part supported by 9-Series chipsets.
This will be the first time that Iris Pro graphics will be available in a socketed platform – but Graff didn't provide any details about whether the graphics will simply be a port of the existing Iris Pro design, or whether the Broadwell compute cores will be graced with new graphics cores.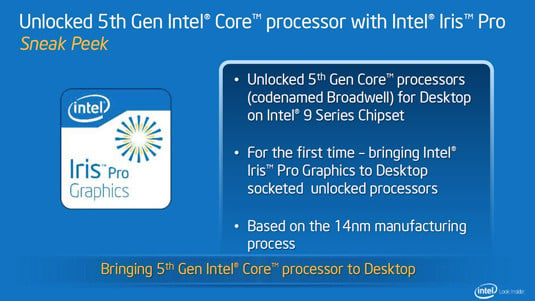 Intel is apparently comfortable enough with the performance of Iris Pro graphics to bring it to the desktop
The release dates of Broadwell chips are still somewhat vague, and Graff didn't help – nor did she say whether the Iris Pro–equipped unlocked Broadwell part would be out of the gate early in the 14nm rollout, or whether it would appear somewhat later in the series.
Graff declined to answer many specific questions – clock rates, TDPs, prices, speeds 'n' feeds, and the like – but the amount of detail she did provide about unreleased products was welcome.
Expect more details about each of these four new chips closer to their release dates, Graff promised. ®