GIANT FLESH-EATING DEVIL CHICKENS roamed North Dakota
Ten-foot-tall Satan Fowl prowled aptly named Hell Creek
---
The middle of North America was overrun by terrifying swarms of enormous flesh-eating demon chickens some 66 million years ago, scientists have declared.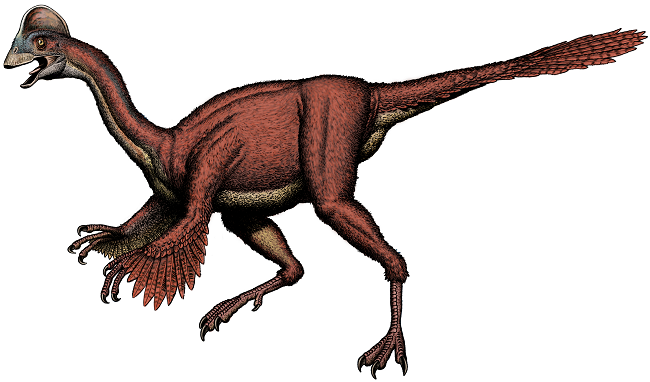 Devilish, yes ... but presumably we're talking about a really serious drumstick here
"It was a giant raptor, but with a chicken-like head and presumably feathers. The animal stood about 10 feet tall, so it would be scary as well as absurd to encounter," says bone-bothering boffin Emma Schachner.
"We jokingly call this thing the 'chicken from hell,' and I think that's pretty appropriate," adds top fossil-furtler Matt Lamanna, who was in charge of the team that discovered the satanic broilers.
According to Utah uni, where some of the investigating boffins are based:
Three partial skeletons of the dinosaur – almost making up a full skeleton – were excavated from the uppermost level of the Hell Creek rock formation in North and South Dakota – a formation known for abundant fossils of Tyrannosaurus rex and Triceratops. The new dinosaur was 11½ feet long, almost 5 feet tall at the hip and weighed an estimated 440 to 660 pounds.
The hellish fowl's official dino name is Anzu wyliei – Anzu after a bird-like demon in Mesopotamian mythology, and wyliei after a boy named Wylie, the dinosaur-loving grandson of a senior figure in the Carnegie Museum, where the newly assembled skeleton of the devil birdosaur is to be displayed.
Unlike the inoffensive, tiny chickens of today, the demonic gobblers did not restrict their diets to bits and bobs pecked out of the dirt in front of them. We are told that they ate "vegetation, small animals and perhaps eggs". Presumably even human beings - had there been any about at the time - would count as "small" in this context.
Full details on the satanic hell chickens of prehistoric America can be found in press announcements here and published in the learned journal PLOS One here. ®